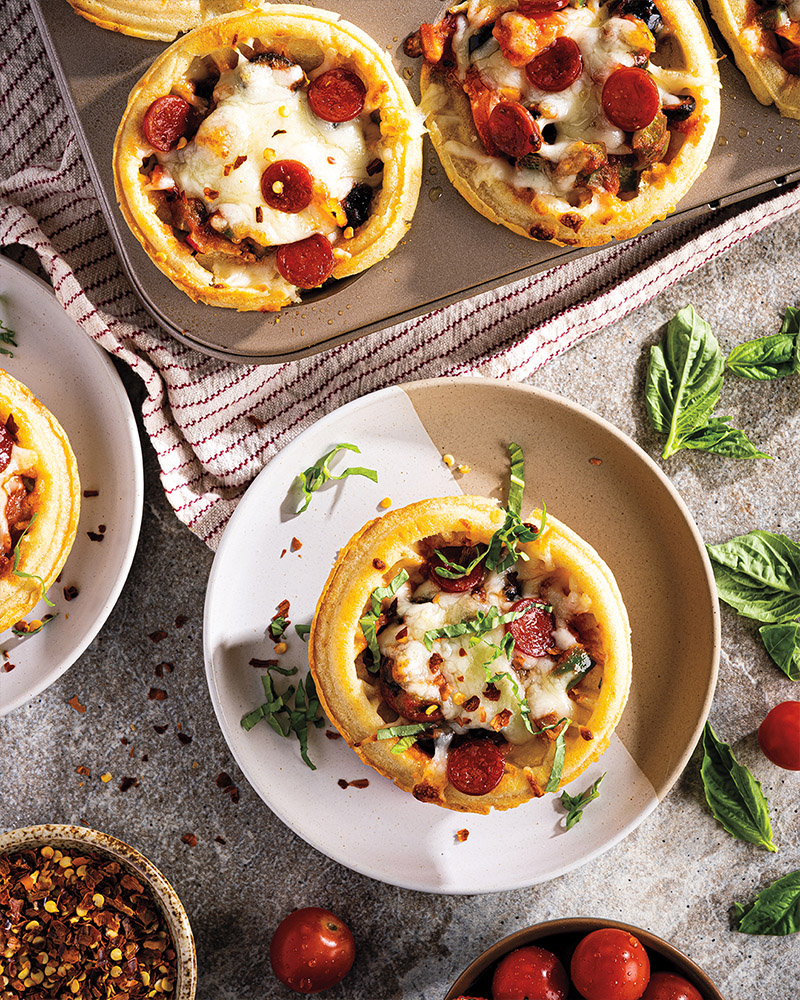 Click to See How-To Video!



Waffle Pizza Cups
Prep: 15 minutes
Bake: 10 minutes • Serves: 6
Nonstick cooking spray
12
(4-inch) frozen homestyle waffles, thawed
1
cup pizza sauce
1/4
cup drained sliced canned black olives
1/4
cup chopped green bell pepper
1/4
cup chopped red onion
1/4
cup quartered cherry tomatoes
1/2
cup shredded mozzarella cheese
1/4
cup mini pepperoni slices
Chopped fresh basil and/ or crushed red pepper flakes for garnish (optional)
1. Preheat oven to 400°; spray 12-cup standard muffin pan with cooking spray. Press waffles into bottom and up sides of prepared muffin cups.

2. In medium bowl, stir sauce, olives, bell pepper, onion and tomatoes. Makes about 1-1/2 cups.

3. Divide sauce mixture into prepared cups; sprinkle with cheese and pepperoni. Bake pizza cups 10 minutes or until cheese is melted and waffles are golden brown. Makes 12 pizza cups.

4. Serve pizza cups garnished with basil and/or crushed red pepper, if desired.


Approximate nutritional values per serving (2 pizza cups):
274 Calories, 13g Fat, 4g Saturated Fat, 32mg Cholesterol, 759mg Sodium,
33g Carbohydrates, 2g Fiber, 5g Sugars, 1g Added Sugars, 8g Protein