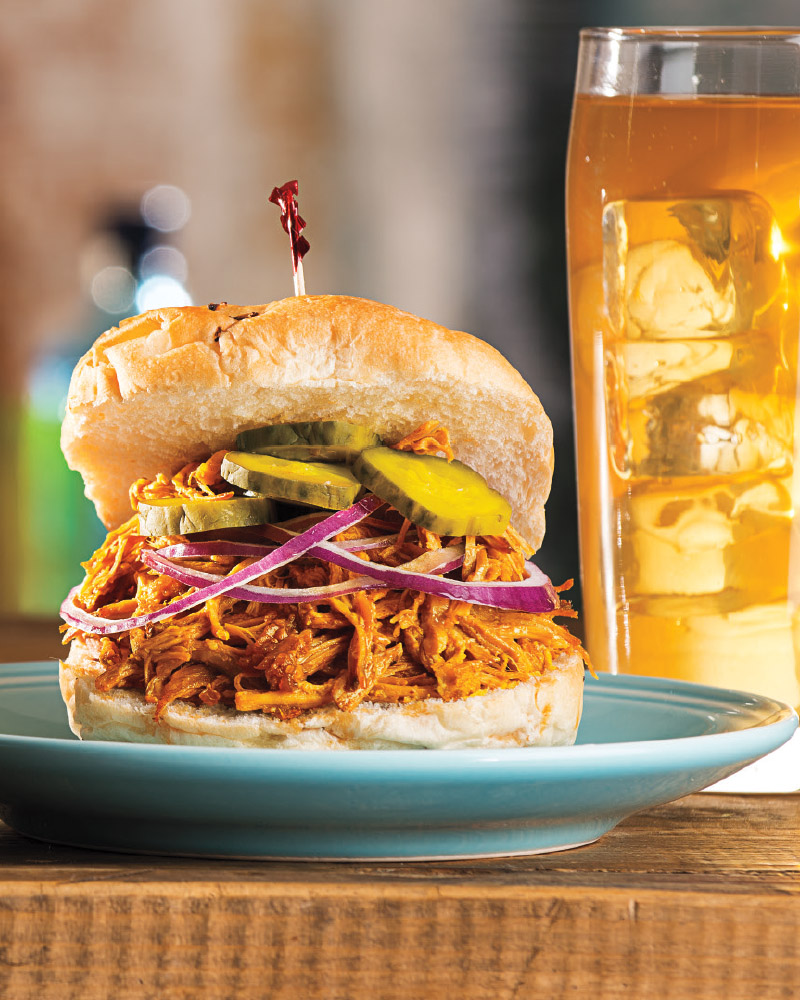 Slow Cooker South Carolina-Style Pulled Pork
Prep: 25 minutes
Slow Cook: 9 hours 15 minutes • Serves: 10
1-1/2
cups apple cider vinegar
1-1/2
cups ketchup
3/4
cup packed light brown sugar
3
tablespoons Worcestershire sauce
2
tablespoons mustard
1-1/2
teaspoons chili powder
1-1/2
teaspoons paprika
1
teaspoon garlic powder
1/2
teaspoon salt
1/2
teaspoon ground black pepper
1/2
teaspoon ground cayenne pepper
1
medium onion, finely chopped
1
(7- to 8-pound) bone-in pork butt
10
onion buns
1. In medium bowl, whisk together all ingredients except onion, pork and buns until well combined. Add 1-3/4 cups sauce and onion to 6- to 8-quart slow-cooker bowl. Add pork to slow cooker, fat side up; pour 1/4 cup sauce over pork. Cover and refrigerate remaining sauce. Cover and cook on low 9 to 10 hours or on high 4-1/2 to 5 hours or until pork is very tender. Do not lift lid during cooking.

2. Skim off fat; remove bone. Trim off and discard desired amount of fat. With 2 forks, shred pork; add reserved sauce and stir to combine. Cover slow cooker; cook on low 15 minutes or until heated through. Evenly spoon mixture over bottom halves of buns; replace top halves and serve. Makes about 10 cups pork.


Approximate nutritional values per serving:
743 Calories, 35g Fat (14g Saturated), 146mg Cholesterol,
956mg Sodium, 56g Carbohydrates, 2g Fiber, 45g Protein

Chef Tip
The pork will shred much easier when it's hot. Carefully remove the bone when it's just cool enough to handle. Try using the bone to shred the pork to your desired consistency.