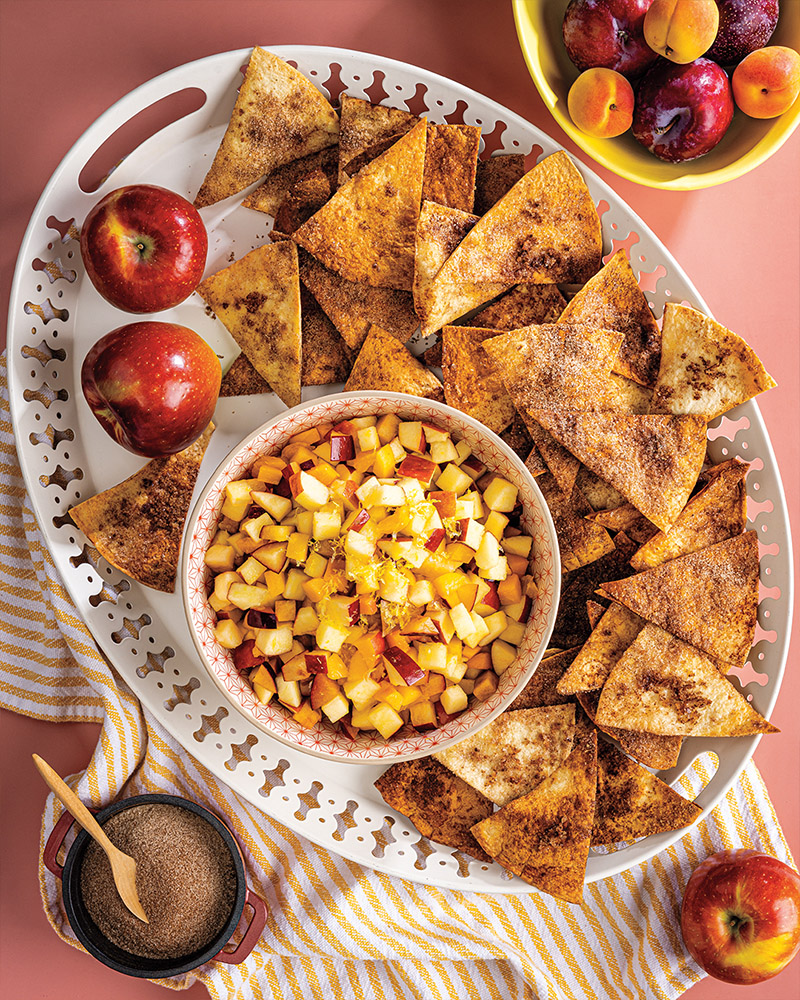 Click to See How-To Video!



Fruit Salsa with Cinnamon Chips
Prep: 15 minutes
Bake: 30 minutes • Serves: 8
1/2
cup plus 2 tablespoons granulated sugar
2-1/2
teaspoons ground cinnamon
1
teaspoon ground allspice
10
(10-inch) flour tortillas
3
tablespoons unsalted butter, melted
1
medium orange
4
medium fresh apricots, halved, pitted and chopped
2
large Cosmic Crisp apples, halved, cored and chopped
2
medium plums, halved, pitted and chopped
1/2
tablespoon fresh lemon juice
1
teaspoon lemon zest
1. Preheat oven to 350°; line 2 separate rimmed baking pans with parchment paper. In small bowl, whisk 1/2 cup sugar, cinnamon and allspice.

2. In two batches, brush both sides of tortillas with butter and sprinkle with sugar mixture; cut each tortilla into 8 wedges and place on prepared pans. Bake tortillas 15 minutes or until golden brown.

3. Slice off ends of orange and place, cut side down, on cutting board; slice down sides of orange to remove skin and white pith with a paring knife. Gently cut along sides of orange membranes to release each segment; chop.

4. In large bowl, toss apricots, apples, plums, orange, lemon juice and lemon zest, and remaining 2 tablespoons sugar. Makes about 4 cups.

5. Serve tortilla chips with salsa.


Approximate nutritional values per serving (1/2 cup fruit salsa, 10 chips ):
405 Calories, 11g Fat, 5g Saturated Fat, 11mg Cholesterol, 739mg Sodium,
73g Carbohydrates, 4g Fiber, 29g Sugars, 16g Added Sugars, 8g Protein