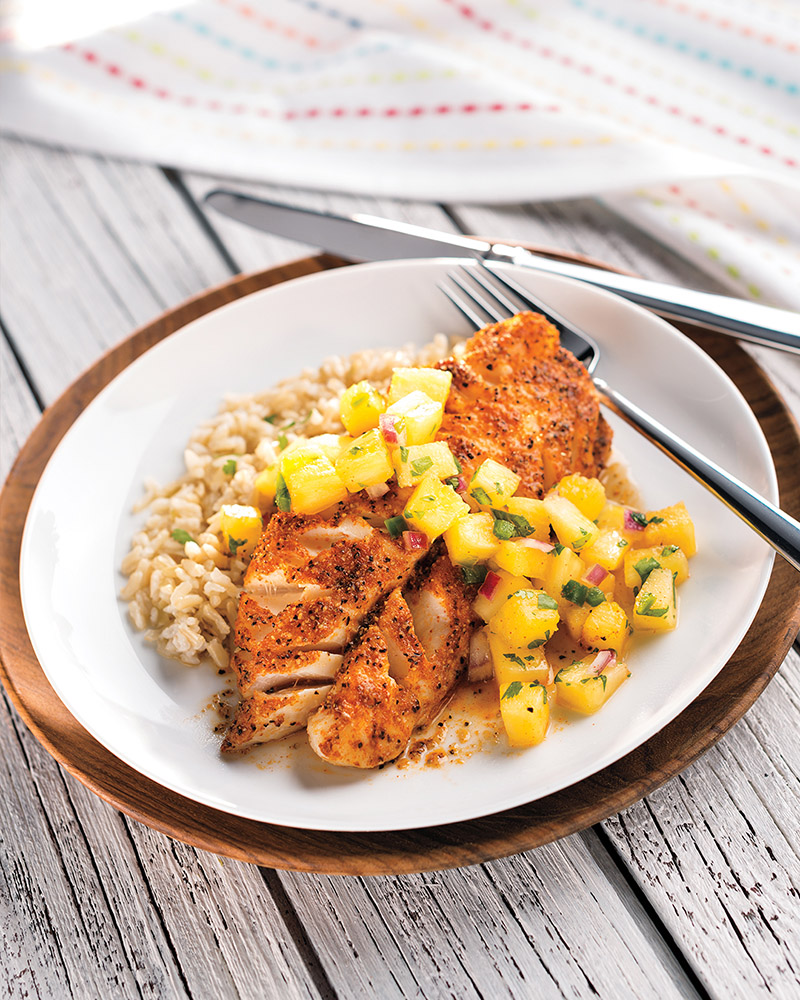 Grilled Fish with Pineapple-Jalapeño Salsa
Prep: 20 minutes
Grill: 10 minutes • Serves: 4
1
tablespoon fresh lime juice
1
tablespoon honey
1/8
teaspoon ground cayenne pepper
1/2
(1-1/2-pound) pineapple, finely chopped (about 2 cups)
1/2
jalapeño pepper, seeded, if desired, and finely chopped (about 1 tablespoon)
1/2
small red onion, finely chopped (about 1/2 cup)
1/4
cup chopped fresh cilantro leaves
1/2
teaspoon ground coriander
1/2
teaspoon paprika
1/2
teaspoon kosher salt
1/2
teaspoon fresh ground black pepper
1-1/2
pounds cod or tilapia
Nonstick cooking spray
1.Line outdoor grill rack with aluminum foil; prepare grill for direct grilling over medium-high heat. In medium bowl, stir lime juice, honey and cayenne pepper until combined; add pineapple, jalapeño, onion and cilantro and toss until well combined. Makes about 2-1/2 cups.

2.In small bowl, combine coriander, paprika, salt and pepper. Evenly sprinkle fish with coriander mixture; spray fish with cooking spray. Place fish on prepared grill rack; cover and cook 8 to 10 minutes or until fish flakes easily with fork, turns opaque throughout and internal temperature reaches 145°. Serve fish with Salsa.


Approximate nutritional values per serving:
206 Calories, 1g Fat (0g Saturated), 74mg Cholesterol,
342mg Sodium, 17g Carbohydrates, 2g Fiber, 32g Protein

Dietitian's tip:
> Pineapple Salsa is also a wonderful summer topping to BBQ pulled pork tacos. Slow cook a pork butt all day, pair with your favorite BBQ sauce and top with Pineapple Salsa.