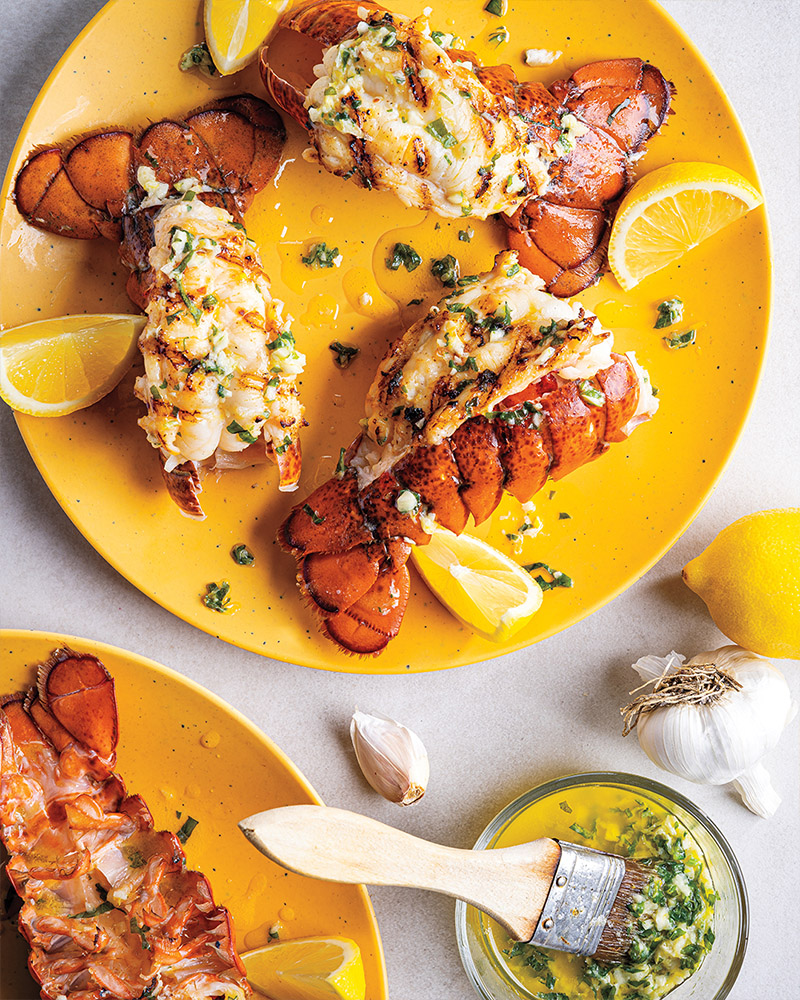 Grilled Garlic-Herb Butterflied Lobster Tails
Prep: 10 minutes plus standing
Grill: 6 minutes • Serves: 4
8
lobster tails (about 4 to 6 ounces each)
4
garlic cloves, minced
1/2
cup unsalted butter, melted
2
teaspoons chopped fresh basil
2
teaspoons lemon zest
Chopped fresh parsley and/or lemon wedges for garnish (optional)
1. Prepare outdoor grill for direct grilling over medium-high heat. With scissors, cut lobster tail shells lengthwise down center; with fingers, spread shells apart. Carefully lift up meat; close shells and place meat on top of shells.

2. In medium bowl, whisk garlic, butter, basil and lemon zest; brush lobster meat with 1/2 the garlic mixture. Place tails, meat side down, on hot grill rack; cover and cook 5 minutes. Turn tails and brush with remaining 1/2 the garlic mixture; cover and cook 1 minute or until shells are bright red and internal temperature of lobster meat reaches 140°. Transfer tails to serving platter; tent with aluminum foil and let stand 5 minutes. (Internal temperature will rise to 145° upon standing.)

3. Serve lobster tails sprinkled with parsley garnished with lemon wedges, if desired.


Approximate nutritional values per serving (2 lobster tails):
424 Calories, 25g Fat, 15g Saturated Fat, 415mg Cholesterol, 1895mg Sodium,
1g Carbohydrates, 0g Fiber, 0g Sugars, 0g Added Sugars, 46g Protein