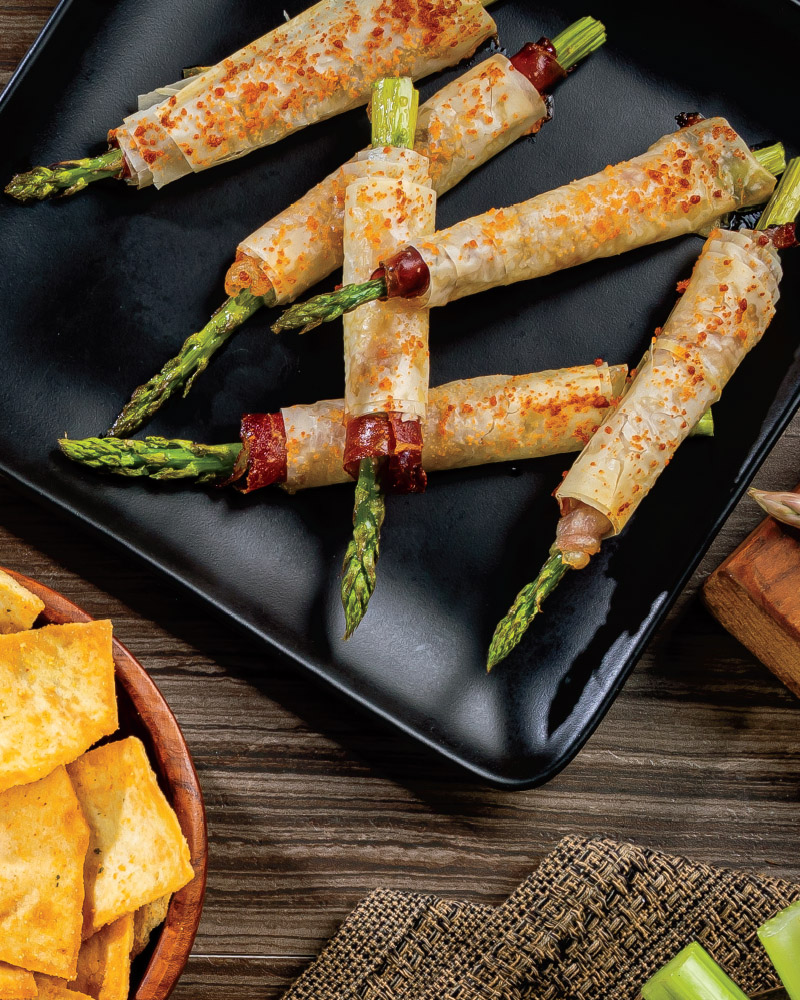 Prosciutto & Parmesan Phyllo-Wrapped Asparagus
Prep: 15 minutes
Bake: 10 minutes • Serves: 12
Olive oil cooking spray
12
asparagus spears, trimmed
12
slices prosciutto
6
(9 x 14-inch) sheets phyllo dough, thawed as label directs
3
tablespoons grated Parmesan cheese
1.Preheat oven to 450°. Line rimmed baking pan with parchment paper; spray with cooking spray. Wrap each asparagus spear with 1 slice prosciutto, leaving about 3/4-inch on the top and bottom of each asparagus spear uncovered.

2.Working with 1 phyllo sheet at a time (keeping remaining sheets covered with clean, damp towel), cut sheet lengthwise in half; spray with cooking spray and sprinkle each half with 1/2 teaspoon cheese. Place 1 asparagus spear on short end of each sheet; roll up and place seam side down on prepared pan. Repeat with remaining sheets and asparagus.

3.Spray phyllo-wrapped asparagus with cooking spray; sprinkle with remaining 1 tablespoon cheese and bake 10 minutes or until golden brown.


Approximate nutritional values per serving (1 wrapped spear):
56 Calories, 2g Fat (1g Saturated), 12mg Cholesterol,
417mg Sodium, 5g Carbohydrates, 0g Fiber, 5g Protein

Dietitian's tip:
> Make sure the dough is properly thawed, preferably overnight in the fridge. Properly thawed dough won't stick together and will be easier to work with. Stick with thinner spears of asparagus that are uniform in size so that the asparagus is done in the same time it takes to crisp the dough.