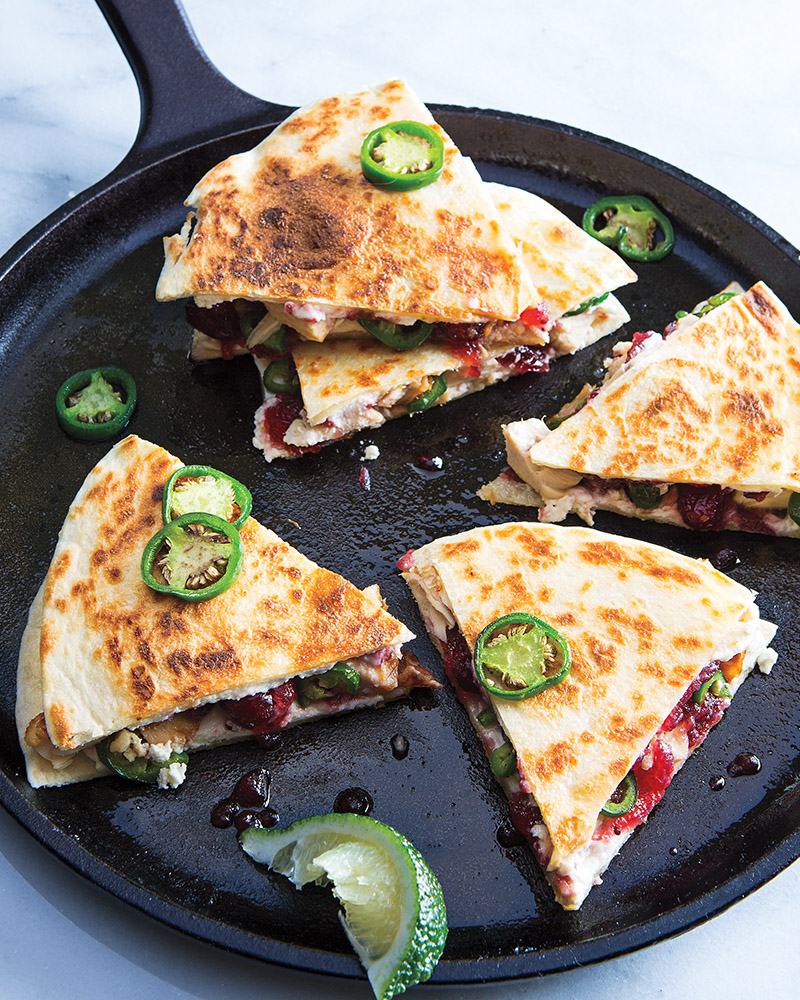 Turkey, Cranberry & Goat Cheese Quesadillas
Prep: 10 minutes
Cook: 10 minutes • Serves: 4
1/4
cup leftover or whole berry canned cranberry sauce
1-1/2
teaspoons lime zest
4
(8-inch) flour tortillas
1
package (4 ounces) chèvre (goat cheese), softened
1/2
small jalapeño chile pepper, seeded if desired, thinly sliced
1
cup chopped leftover or cooked turkey
Nonstick cooking spray
1.In small bowl, stir cranberry sauce and lime zest.

2.Place tortillas on work surface; evenly spread with chèvre then cranberry sauce mixture. Evenly top 2 tortillas with jalapeño and turkey; top with remaining tortillas to close quesadillas.

3.In 2 batches, spray large skillet with cooking spray; add 1 quesadilla and cook over medium-low heat 2 to 3 minutes or until bottom is golden brown. Spray top of quesadilla with cooking spray; turn and cook 2 to 3 minutes longer or until bottom is golden brown. Cut each into 6 wedges; serve with reserved wedge of lime.


Approximate nutritional values per serving: 

301 Calories, 9g Fat (5g Saturated), 47mg Cholesterol,
590mg Sodium, 33g Carbohydrates, 0g Fiber, 20g Protein

Dietitian's tips:
> Try swapping out the flour tortilla for a 100% whole wheat tortilla.
Instead of using a canned cranberry sauce this holiday season, make your own! 

8 ounces fresh or frozen cranberries, rinsed

8 ounces crushed pineapple, packed in 100% juice
1/2 cup 100% orange juice
Stevia or sugar, as needed
Place cranberries, pineapple and orange juice in medium saucepan. Bring to a boil, reduce to medium-high heat, and simmer 10-15 minutes. Use the back of a fork to smash cranberries into a chunky paste. Add sweetener, as desired, and allow to cook 10 minutes. Transfer to a glass bowl and allow to cool. Store in the refrigerator for up to 5 days.