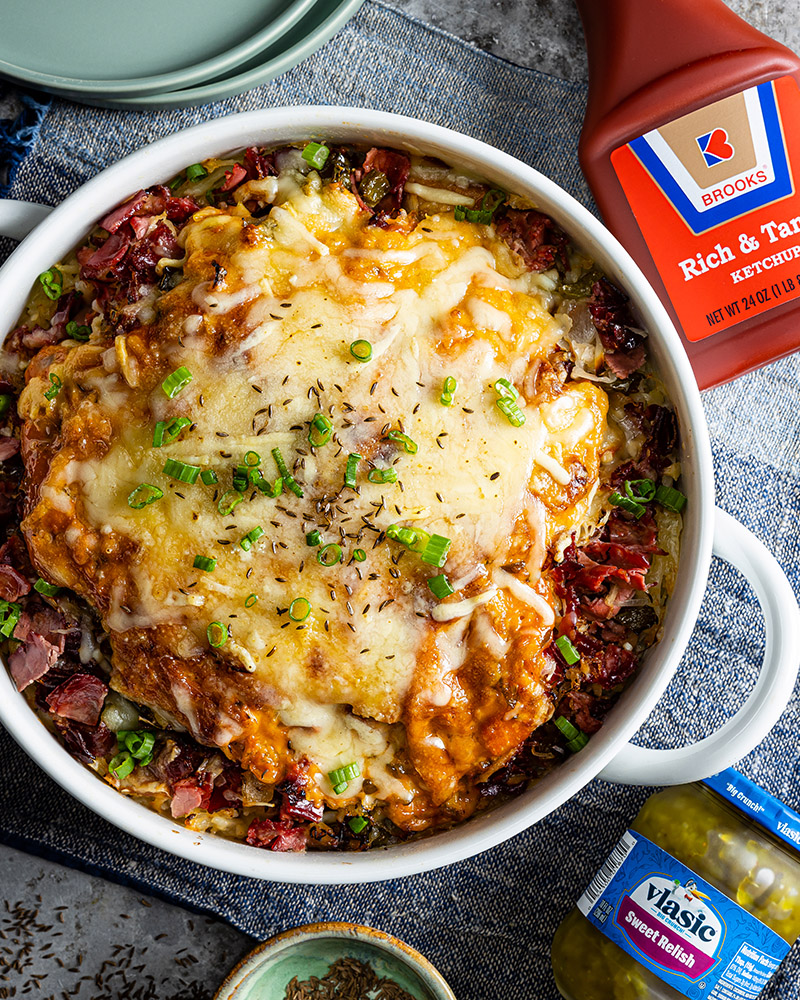 Click to See How-To Video!



Reuben Casserole
Prep: 25 minutes
Bake: 25 minutes • Serves: 8
1
tablespoon
unsalted butter
1
green bell pepper, diced
1
medium white onion, diced
1
can (14.4 ounces)
Our Family® sauerkraut
, drained
3
(1/4-inch-thick) slices deli corned beef (about 1-1/4 pounds), cut into 1/4-inch pieces (or 3-1/2 cups shredded or diced leftover cooked corned beef)
1/2
cup red wine vinegar
1-1/2
teaspoons caraway seeds plus additional for garnish (optional)
1
can (10 3/4 ounces) condensed cream of onion soup
1/3
cup
Vlasic® sweet relish
1/4
cup
Our Family® ketchup
1
bag (20 ounces) refrigerated shredded hash browns
2
cups finely shredded Swiss cheese (8 ounces)
1.Preheat oven to 375°. In large skillet, melt butter over medium heat. Add pepper and onion; cook 6 minutes or until vegetables are tender. Stir in sauerkraut, corned beef, 1/4 cup vinegar and caraway seeds; cook 3 minutes or until heated through, stirring frequently.

2.In medium bowl, stir soup, relish, ketchup and remaining 1/4 cup vinegar. In 2-1/2 quart baking dish, spread hash browns; top with half the soup mixture, 1 cup cheese, corned beef mixture, and remaining soup mixture and 1 cup cheese.

3.Bake casserole 25 minutes or until top is lightly browned; garnish with caraway seeds, if desired, and cut into 8 pieces. Makes about 10 cups.


Approximate nutritional values per serving (1 piece):
409 Calories, 23g Fat, 10g Saturated Fat, 92mg Cholesterol, 1430mg Sodium,
29g Carbohydrates, 4g Fiber, 9g Sugars, 3g Added Sugars, 21g Protein