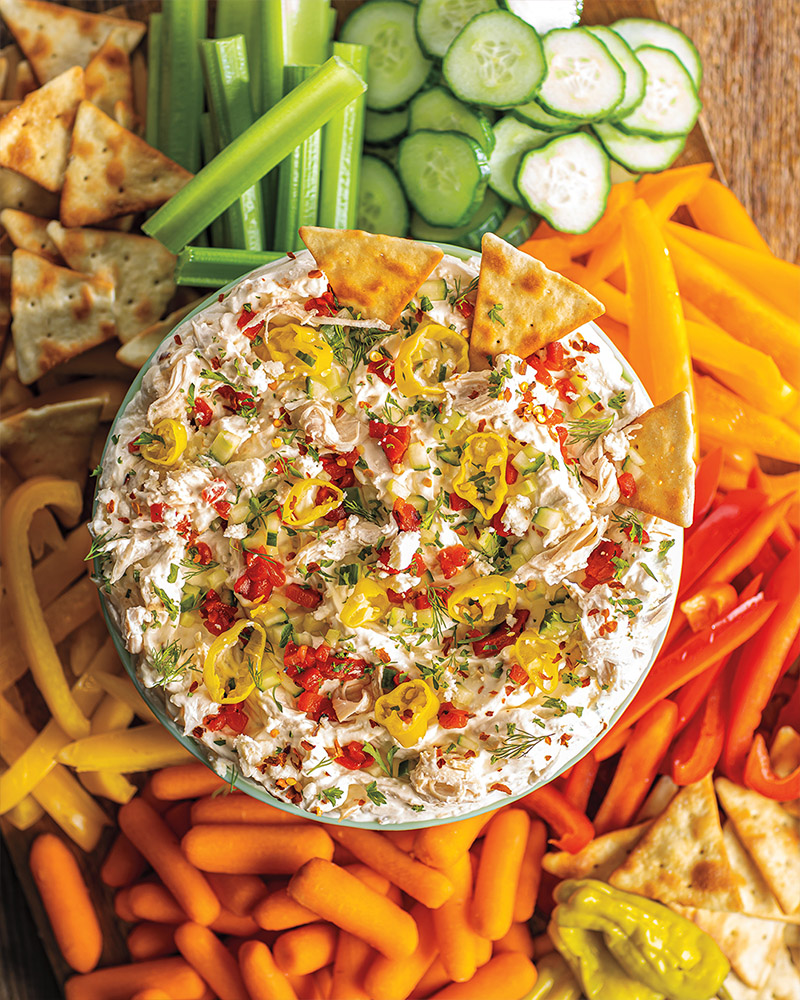 Click to See How-To Video!



Greek Chicken-Feta Dip
Prep: 15 minutes • Serves: 8
1
package (8 ounces) cream cheese, softened
1
cup sour cream
1
tablespoon fresh lemon juice
1-1/2
teaspoons crushed red pepper flakes
1-1/2
cups crumbled feta cheese
1
cup shredded boneless, skinless rotisserie chicken meat
1/4
cup chopped fresh cucumber
1/4
cup drained, chopped roasted red peppers
2
tablespoons drained, chopped pepperoncini
Chopped fresh dill and/or parsley for garnish (optional)
1. In medium bowl, with mixer on medium speed, beat cream cheese, sour cream, lemon juice and crushed red pepper 4 minutes or until light and fluffy; fold in feta cheese and chicken.

2. Transfer cream cheese mixture to serving dish; top with cucumber, roasted red peppers and pepperoncini. Serve garnished with dill and/or parsley, if desired. Makes about 3-1/2 cups.


Approximate nutritional values per serving (1/4 cup plus 3 tablespoons):
247 Calories, 21g Fat, 13g Saturated Fat, 82mg Cholesterol, 469mg Sodium,
5g Carbohydrates, 0g Fiber, 4g Sugars, 0g Added Sugars, 11g Protein

Chef Tip
Serve dip with sliced veggies, pita bread and/or pita chips.