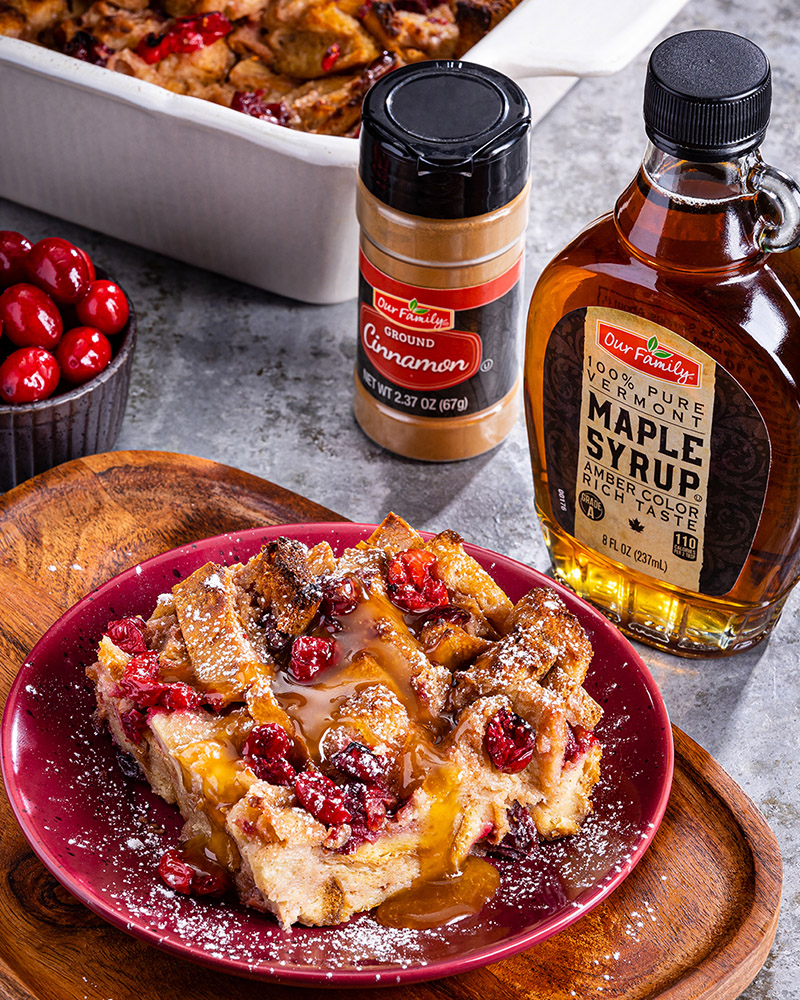 Click to See How-To Video!



Cranberry Bread Pudding with Maple-Whiskey Glaze
Prep: 25 minutes plus standing
Bake: 50 minutes • Serves: 6
Our Family® Canola Oil No Stick Cooking Spray
1
cup fresh cranberries
1/2
cup
Our Family® 100% Pure Vermont Maple Syrup
3
large eggs
1-1/2
cups
Our Family® Half & Half
1/2
teaspoon
Our Family® Ground Cinnamon
4
cups chopped leftover white bread
1/2
cup bourbon whiskey
1/2
cup unsalted butter (1 stick)
1
teaspoon
Our Family® Pure Vanilla Extract
Our Family® Powdered Sugar
for garnish (optional)
1. Preheat oven to 350°; spray 8-inch square baking dish with cooking spray.

2. In medium saucepot, cook cranberries, 1/4 cup syrup and 1/4 cup water over medium heat 4 minutes or until cranberries burst, stirring occasionally. In large bowl, whisk eggs, half & half and cinnamon; fold in bread and cranberry mixture. Spread bread mixture in prepared dish; cover tightly with aluminum foil and let stand 15 minutes. Bake bread pudding 35 minutes; remove foil and bake 15 minutes or until top is golden brown and center is set. Let bread pudding stand 10 minutes before serving.

3. In small saucepot, heat whiskey and remaining 1/4 cup syrup to a simmer over medium-low heat; simmer 5 minutes or until reduced by half, stirring occasionally. Stir in butter and vanilla extract; simmer 4 minutes, stirring occasionally. Let glaze stand 5 minutes. Makes about 3/4 cup glaze.

4. Cut bread pudding into 6 pieces; serve drizzled with glaze and sifted with powdered sugar, if desired.


Approximate nutritional values per serving (1 piece bread pudding, 2 tablespoons glaze):
470 Calories, 26g Fat, 15g Saturated Fat, 155mg Cholesterol, 249mg Sodium,
41g Carbohydrates, 2g Fiber, 22g Sugars, 18g Added Sugars, 9g Protein