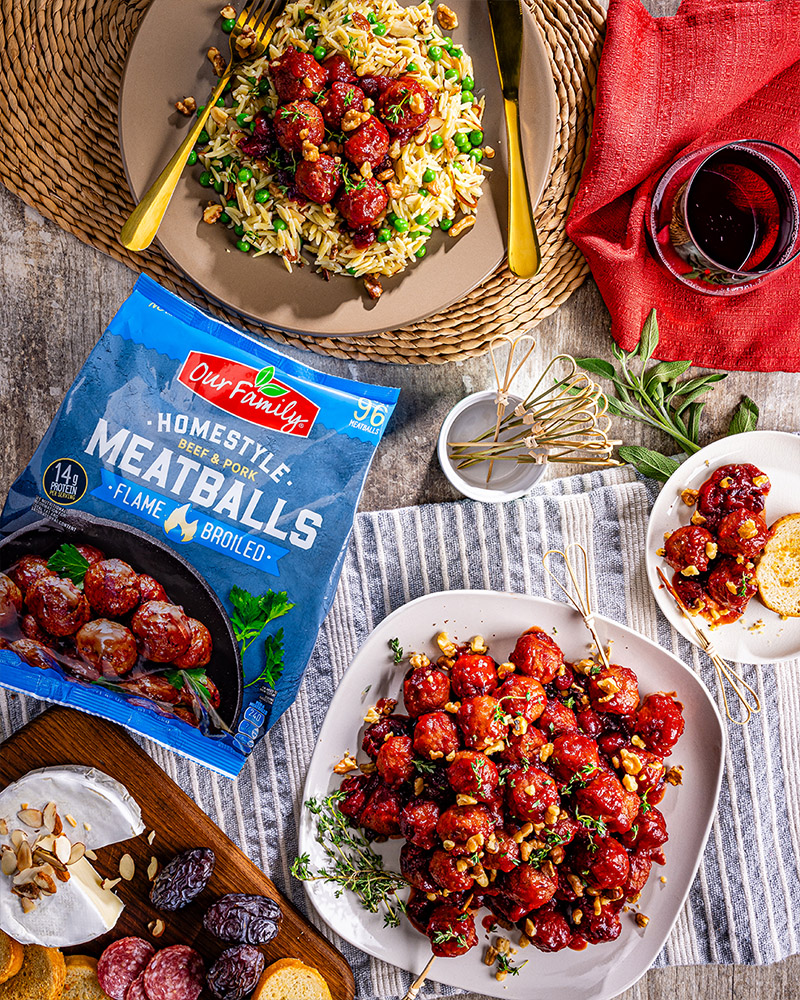 Click to See How-To Video!



Slow Cooker Cranberry Meatballs
Prep: 10 minutes
Slow Cook: 2 hours • Serves: 8
2
cans (14 ounces each)
Our Family® Whole Berry Cranberry Sauce
1/2
cup
Our Family® Chili Sauce
1/2
(48-ounce) bag frozen
Our Family® Flame Broiled Homestyle Beef & Pork Meatballs
1/4
cup
Our Family® Chopped Walnuts
Chopped fresh thyme for garnish (optional)
1. In 5- to 6-quart slow cooker, whisk cranberry sauce and chili sauce; stir in meatballs. Cover and cook on high 2 hours or low 4 hours or until internal temperature of meatballs reaches 165°. Makes about 48 meatballs and 2-1/2 cups sauce.

2. Serve meatballs sprinkled with walnuts and garnished with thyme, if desired.


Approximate nutritional values per serving (6 meatballs, 5 tablespoons sauce):
282 Calories, 9g Fat, 3g Saturated Fat, 14mg Cholesterol, 469mg Sodium,
47g Carbohydrates, 3g Fiber, 36g Sugars, 33g Added Sugars, 6g Protein

Chef Tip
For a holiday appetizer spread, serve meatballs along with a green kale salad and a charcuterie board. Or, for a simple meal solution, serve meatballs over a bed of orzo rice pilaf.