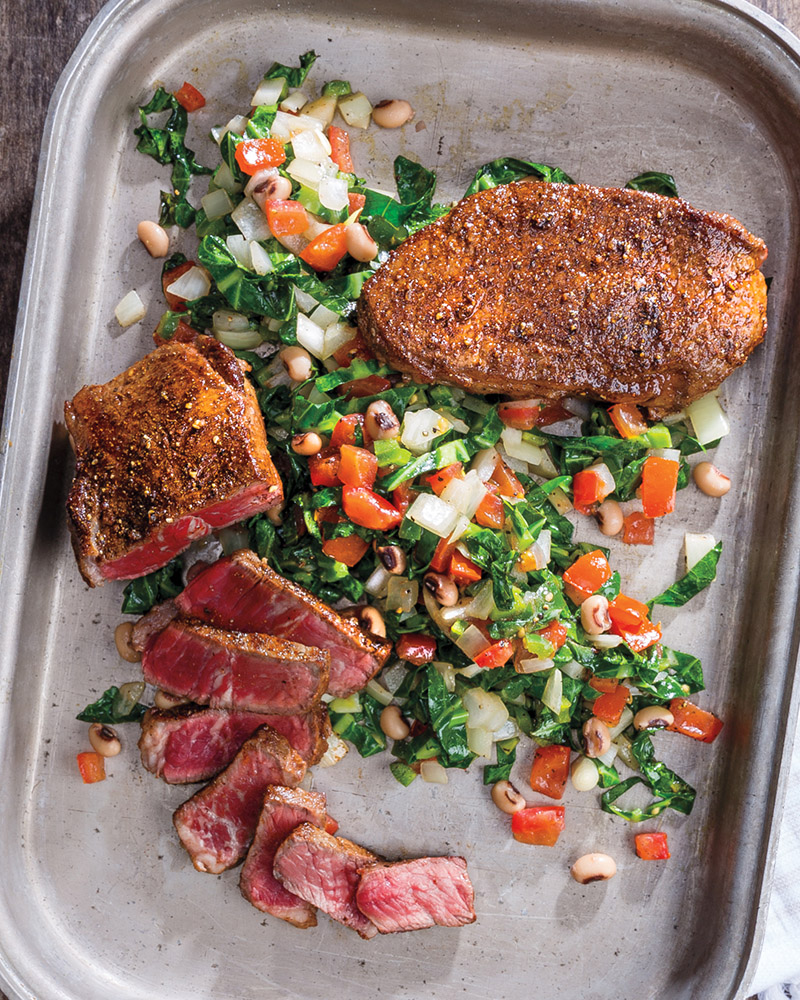 Oven-Roasted Berbere-Spiced New York Strip Steak with Collard Greens
Prep: 15 minutes plus standing
Roast: 25 minutes • Serves: 4
Nonstick cooking spray
3
Roma tomatoes, chopped
2
garlic cloves, minced
1
medium jalapeño pepper, finely chopped
1
small yellow onion, chopped
3
cups thinly sliced collard greens
1
tablespoon olive oil
1/2
teaspoon salt
3/4
teaspoon ground black pepper
2
teaspoons Cajun seasoning
1
teaspoon pumpkin pie spice
1/2
teaspoon ground coriander
2
New York strip steaks (about 10 ounces each)
1
can (15 ounces) lower sodium black eyed peas, drained and rinsed
1.Preheat oven to 400°. Spray rimmed baking pan with cooking spray. In large bowl, toss tomatoes, garlic, jalapeño, onion, greens, oil, salt and 1/2 teaspoon black pepper; spread in single layer on prepared pan. Roast 10 minutes.

2.In small bowl, stir Cajun seasoning, pumpkin pie spice, coriander and remaining ¼ teaspoon black pepper. Spray both sides of steaks with cooking spray; sprinkle with seasoning mixture. Stir peas into vegetable mixture. Push vegetables to 1 side of pan; place steak on opposite side.

3.Roast steaks and vegetables 15 minutes or until internal temperature of steaks reaches 135° for medium-rare and vegetables are tender. Transfer steaks to cutting board; tent with aluminum foil and let stand 10 minutes. (Internal temperature will rise to 145° upon standing.) Slice steaks against the grain.


Approximate nutritional values per serving:
467 Calories, 22g Fat (7g Saturated), 92mg Cholesterol,
430mg Sodium,30g Carbohydrates, 2g Fiber, 36g Protein

Cooking Clue
Make a little extra of the spice blend, and sprinkle onto diced potatoes sprayed with cooking spray. Spread the potatoes on a baking sheet and roast at the same time as the vegetables.