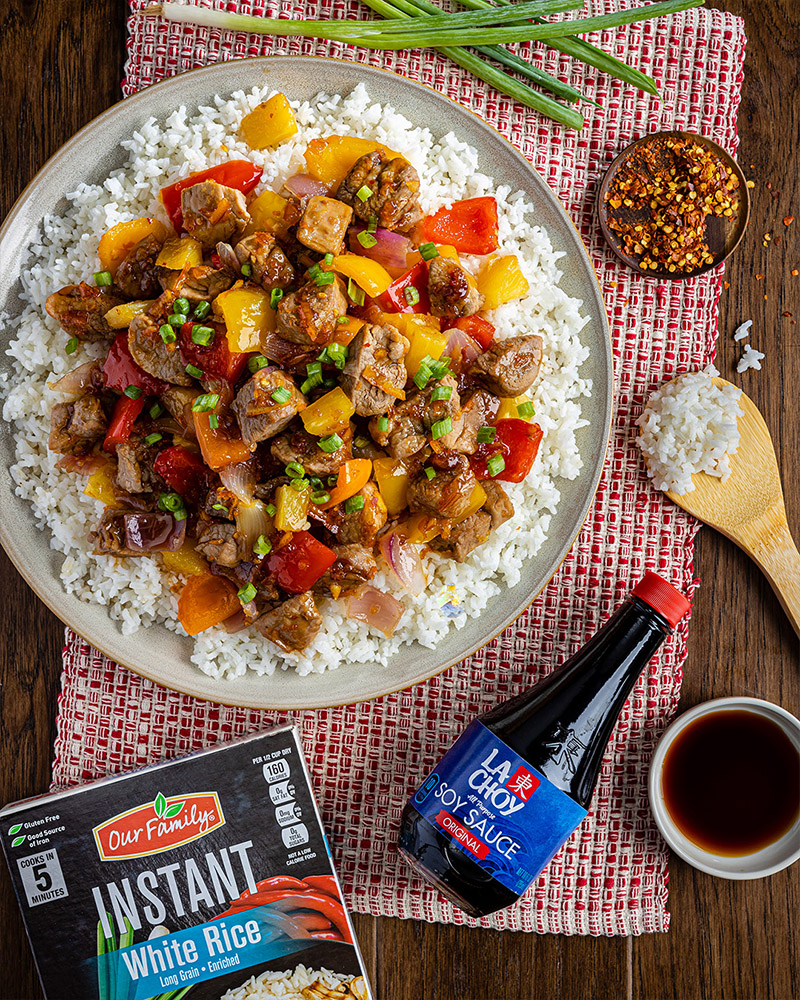 Click to See How-To Video!



Instant Pot Sweet & Sour Pork
Prep: 10 minutes plus pressurizing and standing
Cook: 15 minutes • Serves: 8
1-1/4
pounds pork tenderloin, cut into 1-inch cubes
3
garlic cloves, minced
3
medium orange, red or yellow bell peppers, seeded and chopped
1
large red onion, chopped
1
cup chopped fresh pineapple
3/4
cup orange marmalade
1/4
cup
La Choy® soy sauce
2
tablespoons apple cider vinegar
1-1/2
teaspoons
Our Family® crushed red pepper
4
cups
Our Family® instant white rice
Sliced green onions for garnish (optional)
1.In 5-quart Instant Pot, stir pork, garlic, bell peppers, onion, pineapple, marmalade, soy sauce, vinegar and crushed red pepper. Place lid on Instant Pot and close pressure valve to seal; pressure cook on high 15 minutes. Quick release pressure; let stand 5 minutes. Makes about 8 cups.

2. Prepare rice as label directs. Makes about 8 cups.

3. Serve pork mixture over rice garnished with green onions, if desired.


Approximate nutritional values per serving (1 cup rice, 1 cup pork mixture):
314 Calories, 3g Fat, 1g Saturated Fat, 50mg Cholesterol, 1037mg Sodium,
50g Carbohydrates, 2g Fiber, 23g Sugars, 12g Added Sugars, 23g Protein