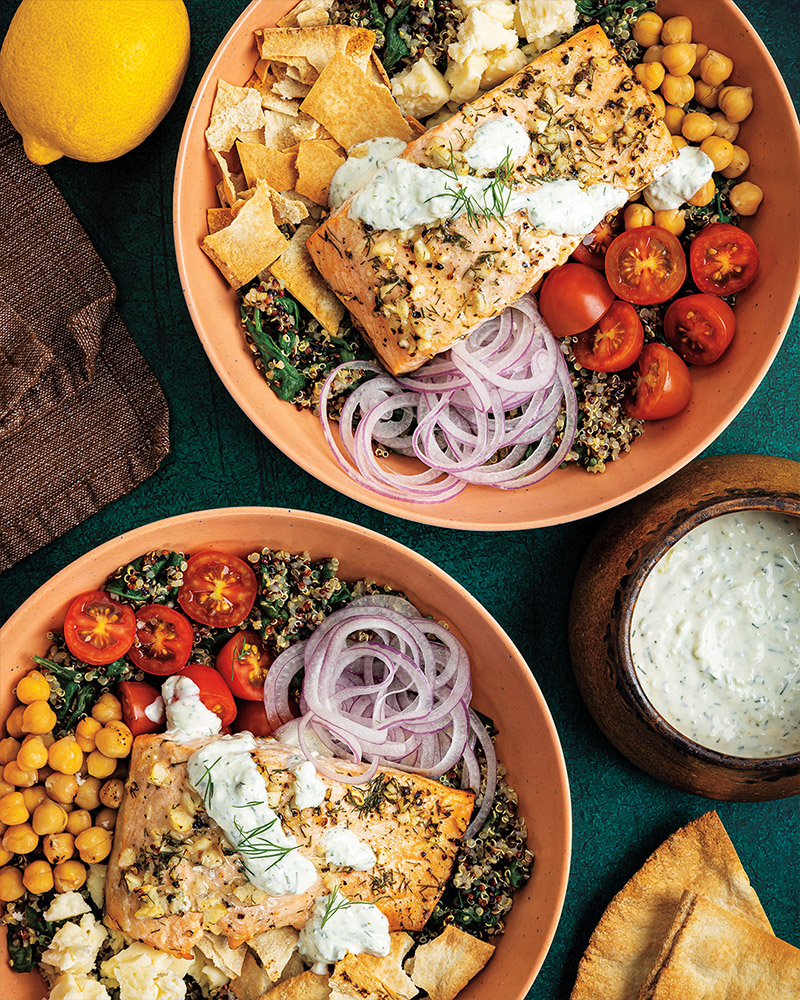 Click to See How-To Video!



Greek Salmon-Quinoa Bowl with Tzatziki
Prep: 25 minutes plus marinating
Bake: 25 minutes • Serves: 4
3
garlic cloves, minced
1/4
cup fresh lemon juice
1
tablespoon chopped fresh dill
3/4
cup
Our Family® Plain Nonfat Greek Yogurt
1/4
cup grated and drained cucumber
1/4
cup
Our Family® 100% Pure Olive Oil
4
salmon fillets, thawed if necessary (about 5 ounces each)
1/4
teaspoon
Our Family® Salt
1/4
teaspoon
Our Family® Pure Ground Black Pepper
1
(8-1/2-inch) pita bread round
1
cup dry quinoa
1
cup packed baby spinach
1/2
cup crumbled feta cheese
1/2
cup drained and rinsed reduced sodium garbanzo beans
1/2
cup halved
Our Family® Grape Tomatoes
1/4
cup thinly sliced red onion
1. In medium bowl, whisk garlic, lemon juice and dill. Makes about 1/3 cup.

2. In medium bowl, stir yogurt, cucumber and 1 tablespoon garlic mixture; cover and refrigerate. Makes about 1 cup.

3. Whisk oil into remaining garlic mixture. Sprinkle salmon with salt and pepper. Place salmon in large zip-top plastic bag; pour garlic-oil mixture over salmon. Seal bag, pressing out excess air; refrigerate at least 2 or up to 4 hours.

4. Preheat oven to 350°; line rimmed 2 baking pans with parchment paper. Place bread on 1 prepared pan; bake 10 minutes or until lightly browned and crisp. Cool bread 5 minutes; break into small pieces. Makes about 1 cup.

5. In medium saucepot, prepare quinoa as label directs. Stir in spinach; cover to keep warm. Makes about 3 cups.

6. Remove salmon from marinade; discard marinade. Place salmon on second prepared pan; bake 15 minutes or until internal temperature reaches 145°.

7. Divide quinoa mixture into 4 bowls; top with salmon, cheese, beans, tomatoes, onion, bread and yogurt mixture. Makes 4 bowls.


Approximate nutritional values per serving (1 bowl):
592 Calories, 24g Fat, 6g Saturated Fat, 108mg Cholesterol, 544mg Sodium,
46g Carbohydrates, 5g Fiber, 4g Sugars, 0g Added Sugars, 48g Protein