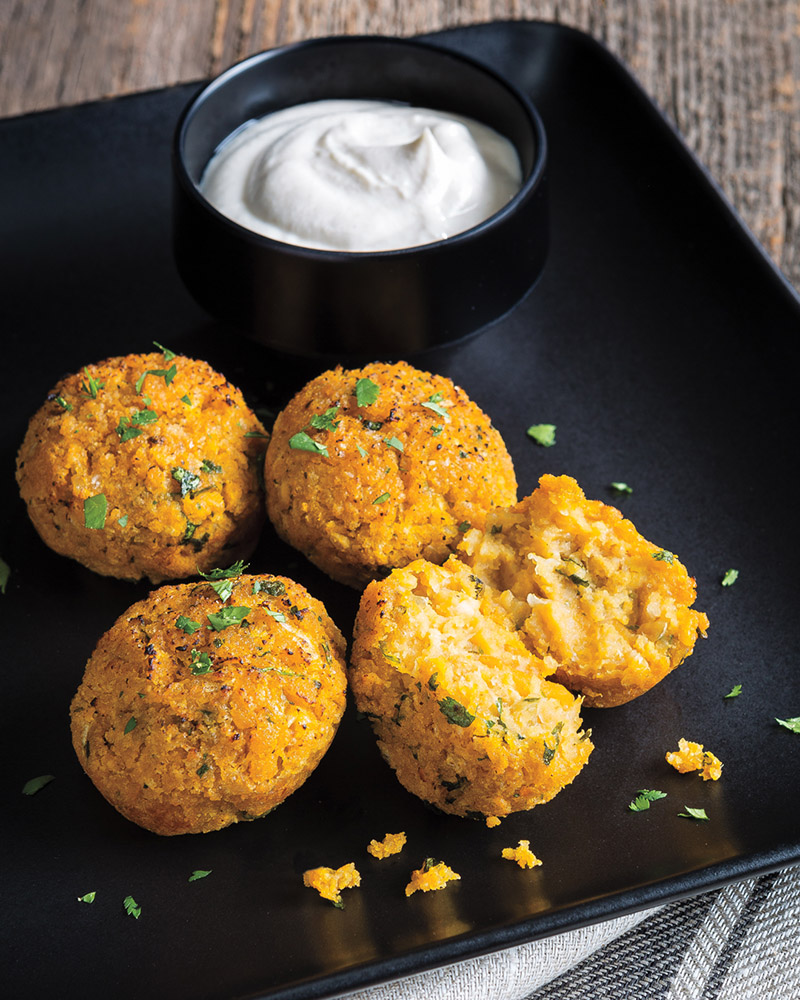 Mini Falafel Muffins with Tahini-Yogurt Sauce
Prep: 45 minutes plus freezing
Bake: 1 hour 15 minutes • Serves: 8
1
medium sweet potato
1
can (15 ounces) reduced sodium chickpeas, drained and rinsed, 1-1/2 tablespoons liquid reserved
2
garlic cloves
1/2
small white onion, coarsely chopped
2-1/2
tablespoons fresh lemon juice, divided
1
cup canned sweet potato purée
3
tablespoons chopped fresh cilantro plus additional for garnish
2
tablespoons panko breadcrumbs
2
teaspoons ground cumin
1/2
teaspoon baking powder
1/4
cup plain nonfat Greek yogurt
1
tablespoon tahini
1.Preheat oven to 425°. Poke potato several times with fork; place on cookie sheet and bake 45 minutes or until tender. Let cool; peel and cut into cubes.

2.In food processor, pulse chickpeas, garlic, onion and 1 tablespoon lemon juice until chickpeas are coarsely chopped. Add sweet potato, cilantro, breadcrumbs, cumin, baking powder, and 1/8 teaspoon salt and 1/2 teaspoon pepper; pulse until incorporated and mixture sticks together when squeezed between fingers.

3.Spray 24-cup mini muffin pan with cooking spray; divide chickpea mixture into muffin cups and freeze 15 minutes.

4.Preheat oven to 375°. In small bowl, whisk yogurt, tahini, reserved 1-1/2 tablespoons chickpea liquid and remaining 1-1/2 tablespoons lemon juice.

5.Bake falafel muffins 30 minutes or until golden brown. Serve sprinkled with cilantro with Tahini-Yogurt Sauce.


Approximate nutritional values per serving (3 mini muffins and 1 T. sauce):
81 Calories, 2g Fat (0g Saturated), 0mg Cholesterol,
154mg Sodium, 14g Carbohydrates, 3g Fiber, 4g Protein

Chef Tip
Freeze leftover falafel muffins in freezer-safe zip-top plastic bag. Reheat on rimmed baking pan in 350° oven for 15 minutes or until heated through.

Dietitian's tip:
> Falafel muffins are a fantastic vegan option that is both nutrition packed and budget friendly. Blending these ingredients together in a food processor keeps this recipe simple and quick, while introducing your children to a variety of flavors within a familiar format.