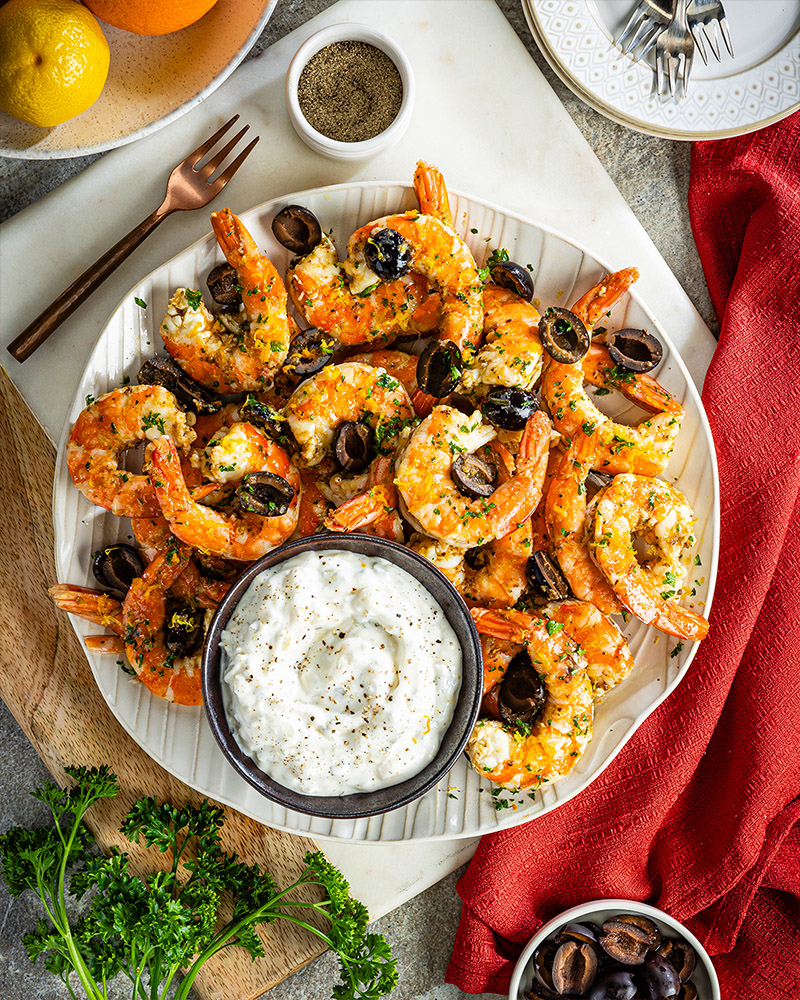 Click to See How-To Video!



Olive & Citrus-Marinated Shrimp
4
garlic cloves
3/4
cup drained
Our Family® Large Pitted Olives
, halved
1/4
cup fresh lemon juice
1/4
cup fresh orange juice
1
teaspoon lemon zest
1
teaspoon orange zest
1/2
teaspoon
Our Family® Pure Ground Black Pepper
1
package (16 ounces) 21-25 Count Cooked, Peeled and Deveined Tail-On Shrimp, thawed if necessary
Chopped fresh parsley for garnish (optional)
Dill dip and/or tzatziki sauce for serving (optional)
1. In blender, purée garlic, 1/4 cup olives, lemon juice, orange juice, lemon zest, orange zest and pepper. Makes about 3/4 cup.

2. Place shrimp in large zip-top plastic bag; pour garlic mixture over shrimp. Seal bag, pressing out excess air; refrigerate at least 2 or up to 8 hours.

3. Drain shrimp, transfer to large bowl and fold in remaining 1/2 cup olives; discard marinade. Makes about 24 shrimp and 24 olives.

4. Serve shrimp mixture garnished with parsley along with dill dip and/or tzatziki sauce, if desired.


Approximate nutritional values per serving (4 shrimp, 4 olives):
185 Calories, 10g Fat, 1g Saturated Fat, 112mg Cholesterol, 480mg Sodium,
10g Carbohydrates, 2g Fiber, 1g Sugars, 1g Added Sugars, 12g Protein