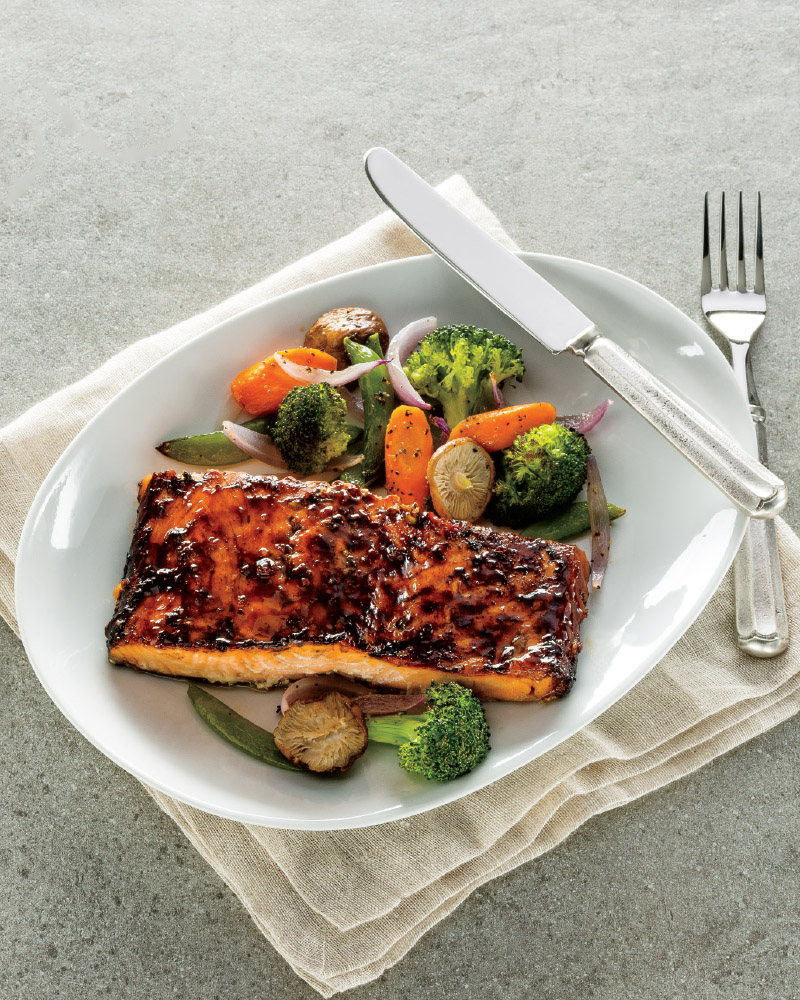 Roasted Asian-Glazed Salmon & Veggies
Prep: 15 minutes
Roast: 25 minutes • Serves: 4
1
(8-ounce) head broccoli, cut into 2-inch pieces
6
ounces shiitake mushrooms, stems removed
2
medium carrots, cut into 1-inch pieces
1
small red onion, cut into 1/2-inch wedges
2
cups sugar snap peas
1
tablespoon olive oil
3/4
teaspoon salt
1/2
teaspoon ground black pepper
1
garlic clove, minced
2
tablespoons hoisin sauce
2
teaspoons chili garlic sauce
1-1/4
pounds fresh salmon fillet
1.Preheat oven to 425°. Line rimmed baking pan with parchment paper.

2.In large bowl, toss broccoli, mushrooms, carrots, onion, snap peas, oil, 1/2 teaspoon salt and 1/4 teaspoon pepper; spread in single layer on prepared pan. Roast vegetables 15 minutes.

3.In small bowl, stir garlic, hoisin, chili garlic sauce, and remaining 1/4 teaspoon salt and 1/4 teaspoon pepper. Move vegetables to 1 side of pan; place salmon, skin side down, on opposite side of pan. Evenly spread hoisin mixture over salmon.

4.Roast salmon and vegetables 10 minutes longer or until internal temperature of salmon reaches 145° and vegetables are crisp-tender.


Approximate nutritional values per serving: 

353 Calories, 14g Fat (2g Saturated), 90mg Cholesterol,
722mg Sodium, 20g Carbohydrates, 5g Fiber, 36g Protein

Dietitian's tip:
> Try serving this meal with a whole grain, like quinoa or brown rice. Find a frozen, steamable whole grain brown rice bag by Bird's Eye in your frozen department. Have a cooked whole grain ready to serve in less than 5 minutes!