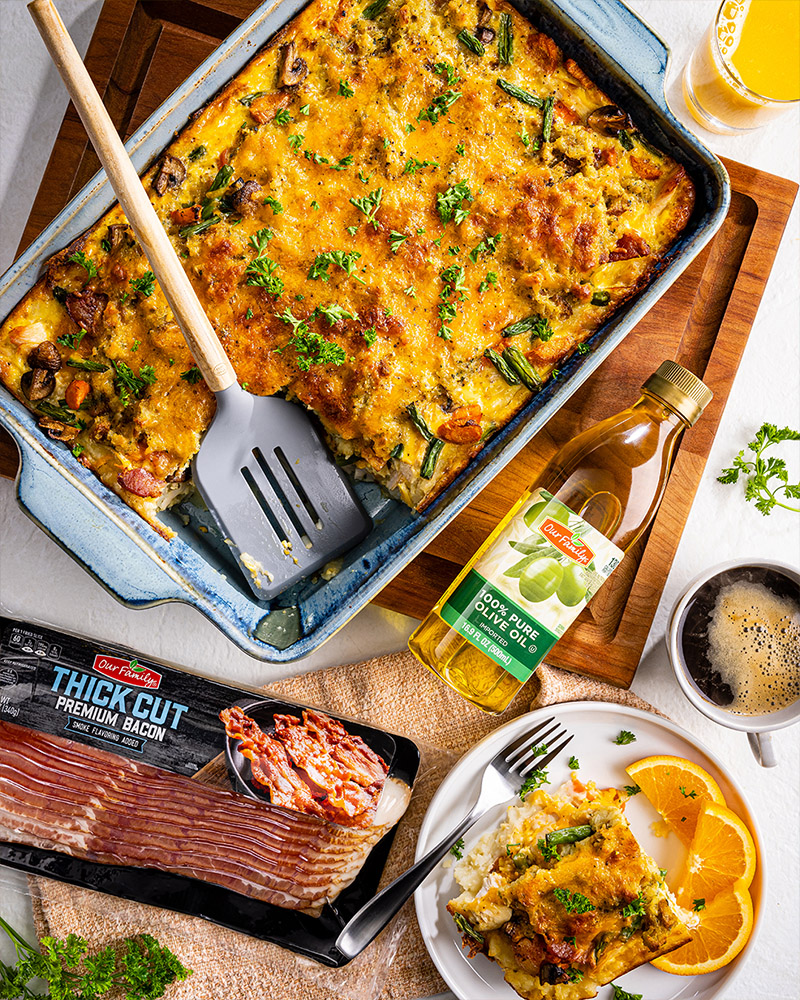 Click to See How-To Video!



Mashed Potato Crust Leftover Egg Bake
Prep: 30 minutes plus standing
Bake: 1 hour 25 minutes • Serves: 12
Our Family® Vegetable Oil No Stick Cooking Spray
4
cups leftover or refrigerated mashed potatoes
2
tablespoons
Our Family® 100% Pure Olive Oil
8
slices
Our Family® Thick Cut Premium Bacon
, chopped
2
cups packed shredded leftover or cooked turkey
2
cups coarsely chopped leftover or cooked vegetables such as Brussels sprouts, carrots, green beans and/or mushrooms
2-1/2
cups shredded Cheddar cheese
1-1/2
cups leftover or prepared stuffing
6
Our Family® Grade A Large Eggs
1-1/4
cups whole milk
1/2
teaspoon
Our Family® Salt
1
teaspoon
Our Family® Pure Ground Black Pepper
Chopped fresh parsley for garnish (optional)
1. Preheat oven to 350°; spray 13 x 9-inch baking dish with cooking spray. Press potatoes onto bottom and up sides of prepared dish; brush with oil and bake 45 minutes or until lightly browned.

2. In large nonstick skillet, cook bacon over medium-high heat 5 minutes or until crisp, stirring occasionally. With slotted spoon, transfer bacon to paper towel-lined plate.

3. Spread turkey over potatoes in dish; layer vegetables, 1-1/2 cups cheese, bacon, stuffing and remaining 1 cup cheese over turkey. In large bowl, whisk eggs, milk, salt and pepper; pour over cheese. Bake egg bake 40 minutes or until set and internal temperature reaches 160°; let stand 10 minutes.

4. Cut egg bake into 12 pieces; serve garnished with parsley, if desired.


Approximate nutritional values per serving (1 piece):
431 Calories, 30g Fat, 12g Saturated Fat, 167mg Cholesterol, 799mg Sodium,
19g Carbohydrates, 2g Fiber, 4g Sugars, 0g Added Sugars, 21g Protein

Chef Tip
Use a small spatula to evenly spread potatoes after pressing into dish.