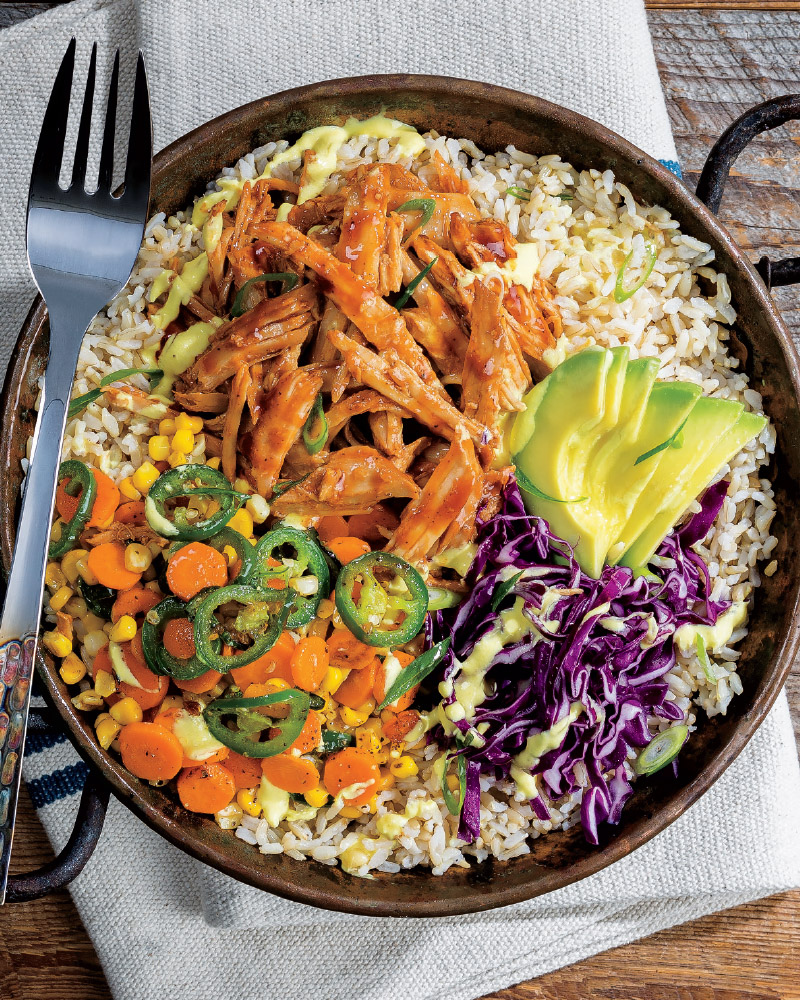 Slow Cooker BBQ Pulled Pork Bowl
Prep: 25 minutes
Slow Cook: 4 hours • Serves: 4
1
garlic clove, minced
1/2
cup barbeque sauce
1
boneless pork loin end roast (1 pound)
2
medium carrots, peeled and chopped
1
small jalapeño, thinly sliced
1/2
cup fresh or frozen corn kernels
1
tablespoon olive oil
1/4
teaspoon salt
1/4
teaspoon ground black pepper
1/3
cup plain nonfat Greek yogurt
2
tablespoons yellow mustard
1
tablespoon honey
2
cups prepared quick-cooking brown rice
2
green onions, thinly sliced
1
avocado, peeled, pitted and sliced
1/2
cup shredded red cabbage
1.In small bowl, whisk garlic, barbeque sauce and 1/2 cup water. In 5- to 6-quart slow cooker, add pork; pour barbeque sauce mixture over pork. Cover and cook on high 4 hours or low 8 hours or until pork is very tender. With 2 forks, shred pork in slow cooker.

2.Preheat oven to 400°. In medium bowl, toss carrots, jalapeño, corn, oil, salt and pepper to combine; spread in single layer on rimmed baking pan. Roast vegetables 25 minutes or until golden brown and tender.

3.In small bowl, stir yogurt, mustard and honey until combined.

4.Divide rice into 4 bowls; top with onion, avocado, cabbage, pork mixture and roasted vegetables, and drizzle with yogurt mixture.


Approximate nutritional values per serving:
491 Calories, 16g Fat (3g Saturated), 62mg Cholesterol,
586mg Sodium, 60g Carbohydrates, 8g Fiber, 30g Protein

Dietitian's tip:
> Shop for a microwavable quick cooking whole grain in both the grocery and frozen departments of your local store. One of my favorites is Seeds of Change Brown Rice and Quinoa blend found in your grocery department near all other rice varieties.