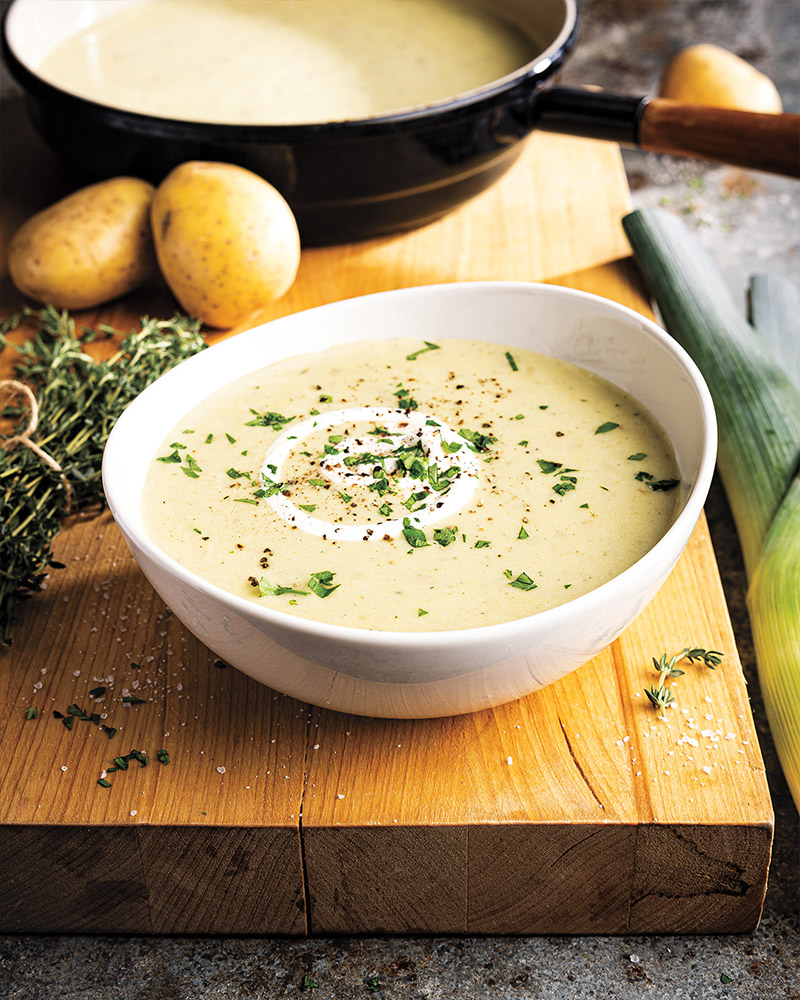 Click to See How-To Video!



Potato-Leek Soup
Prep: 15 minutes
Cook: 17 minutes • Serves: 8
6
medium Yukon Gold potatoes (about 2-1/2 pounds), peeled and cut into 1-inch chunks (about 6 cups)
2
teaspoons salt
2
tablespoons olive oil
4
medium leeks, cut lengthwise in half, then crosswise into 1/2-inch pieces (about 4 cups)
1-1/2
teaspoons chopped fresh thyme leaves or 1/2 teaspoon dried thyme leaves
1
cup half and half
1/4
teaspoon white pepper
Sour cream and chopped fresh parsley for garnish (optional)
1. In large saucepot, heat potatoes, 1 teaspoon salt and 6 cups water to a boil over medium-high heat. Reduce heat to medium; cover and cook 14 minutes or until potatoes are fork-tender. Remove from heat.

2. In large skillet, heat oil over medium heat. Add leeks and thyme; cook 15 minutes or until tender, stirring occasionally.

3. Stir half and half, pepper, remaining 1 teaspoon salt and leek mixture into potato mixture; heat to a simmer over medium heat. Remove from heat; with immersion blender or blender, purée soup. Makes about 9 cups.

4. Serve soup garnished with sour cream and parsley, if desired.


Approximate nutritional values per serving (1-1/8 cups):
212 Calories, 7g Fat, 3g Saturated Fat, 11mg Cholesterol, 621mg Sodium,
35g Carbohydrates, 4g Fiber, 4g Sugars, 0g Added Sugars, 5g Protein