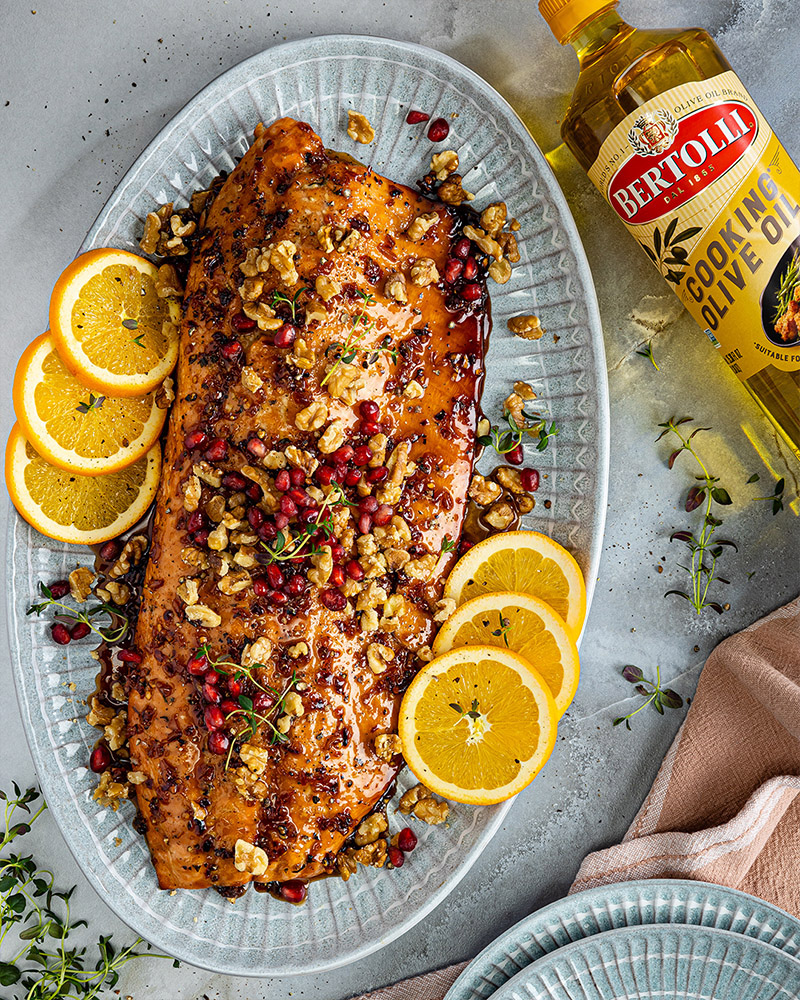 Pomegranate-Orange Glazed Salmon
Prep: 20 minutes
Roast: 20 minutes • Serves: 8
Nonstick cooking spray
1
tablespoon Bertolli® cooking olive oil
2
garlic cloves, minced
1/4
cup 100% pomegranate juice
1/4
cup fresh orange juice
2
tablespoons Our Family® granulated sugar
1/2
teaspoon chopped fresh thyme plus additional sprigs for garnish (optional)
1/2
teaspoon orange zest
1/4
teaspoon Our Family® crushed red pepper
1
whole skin-on salmon fillet (about 2 1/2 pounds)
1
teaspoon kosher salt
1/2
teaspoon fresh cracked black pepper
1/2
cup chopped walnuts
1/4
cup pomegranate arils
Orange wheels for garnish (optional)
1. Preheat oven to 400°. Line rimmed baking pan with aluminum foil; spray with cooking spray.

2. In small saucepan, heat oil over medium-high heat. Add garlic; cook 30 seconds or until fragrant, stirring frequently. Stir in pomegranate juice, orange juice, sugar, thyme, orange zest and crushed red pepper; heat to a simmer. Reduce heat to medium-low; cook 5 minutes or until thickened and reduced by 1/2, stirring occasionally. Makes about 1/4 cup.

3. Place salmon, skin side down, on prepared pan; sprinkle with salt and pepper. Brush salmon with 2 tablespoons garlic mixture; roast 20 minutes or until internal temperature reaches 145°, brushing with remaining 2 tablespoons garlic mixture halfway through cooking.

4. Serve salmon sprinkled with walnuts and pomegranate arils, garnished with orange wheels and thyme sprigs, if desired.


Approximate nutritional values per serving (about 4-1/2 ounces salmon):
319 Calories, 17g Fat, 2g Saturated Fat, 90mg Cholesterol, 312mg Sodium,
7g Carbohydrates, 1g Fiber, 6g Sugars, 3g Added Sugars, 33g Protein