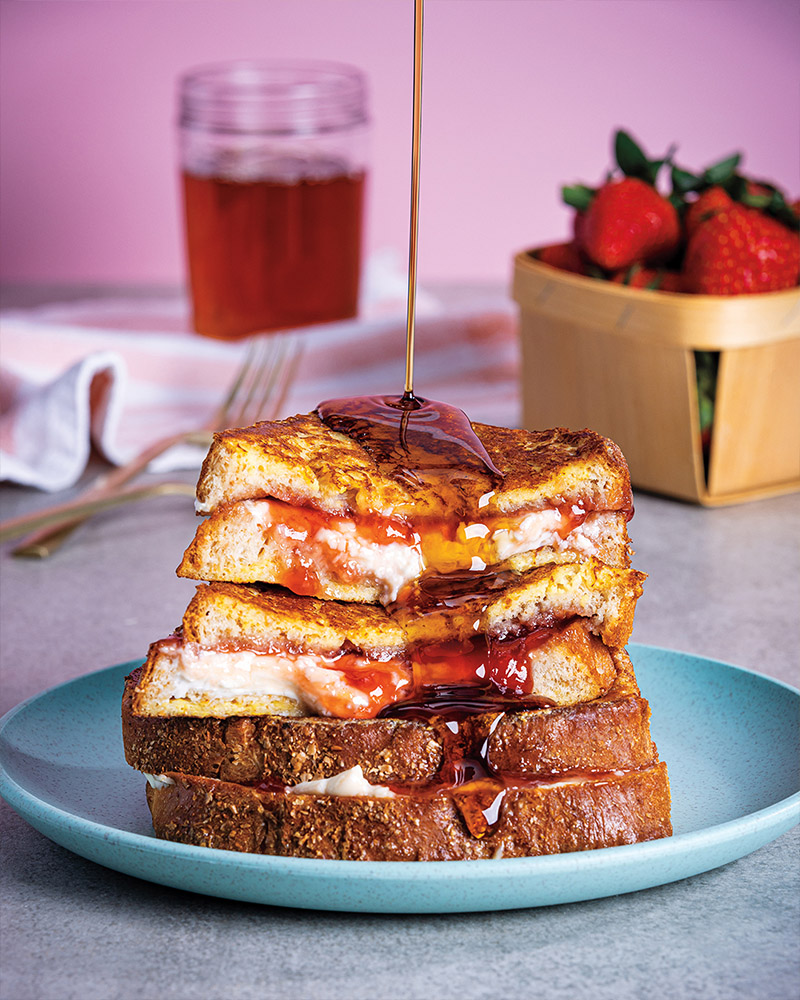 Click to See How-To Video!



Strawberry French Toast Sandwiches
Prep: 10 minutes
Cook: 8 minutes • Serves: 4
8
slices whole-grain honey wheat bread
1/2
cup low sugar strawberry preserves
1/2
cup Neufchâtel cheese, softened
4
large eggs
1/2
cup reduced fat milk
Maple syrup for serving (optional)
1. Spread 4 slices of bread with preserves; spread remaining 4 slices of bread with cheese. Press preserves and cheese sides of bread together to make 4 sandwiches.

2. In shallow dish, whisk eggs and milk.

3. Heat large, nonstick skillet over medium heat. In 2 batches, dip both sides of sandwiches into egg mixture, allowing excess to drip off, and add to skillet; cook 4 minutes or until golden brown, turning once. Makes 4 French toast sandwiches.

4. Serve sandwiches with maple syrup, if desired.


Approximate nutritional values per serving (1 sandwich):
283 Calories, 8g Fat, 4g Saturated Fat, 19mg Cholesterol, 266mg Sodium,
42g Carbohydrates, 6g Fiber, 18g Sugars, 11g Added Sugars, 5g Protein

Chef Tip
Serve French toast sandwiches topped with fat-free cool whipped topping, chopped fresh fruit, walnuts and/or pecans.