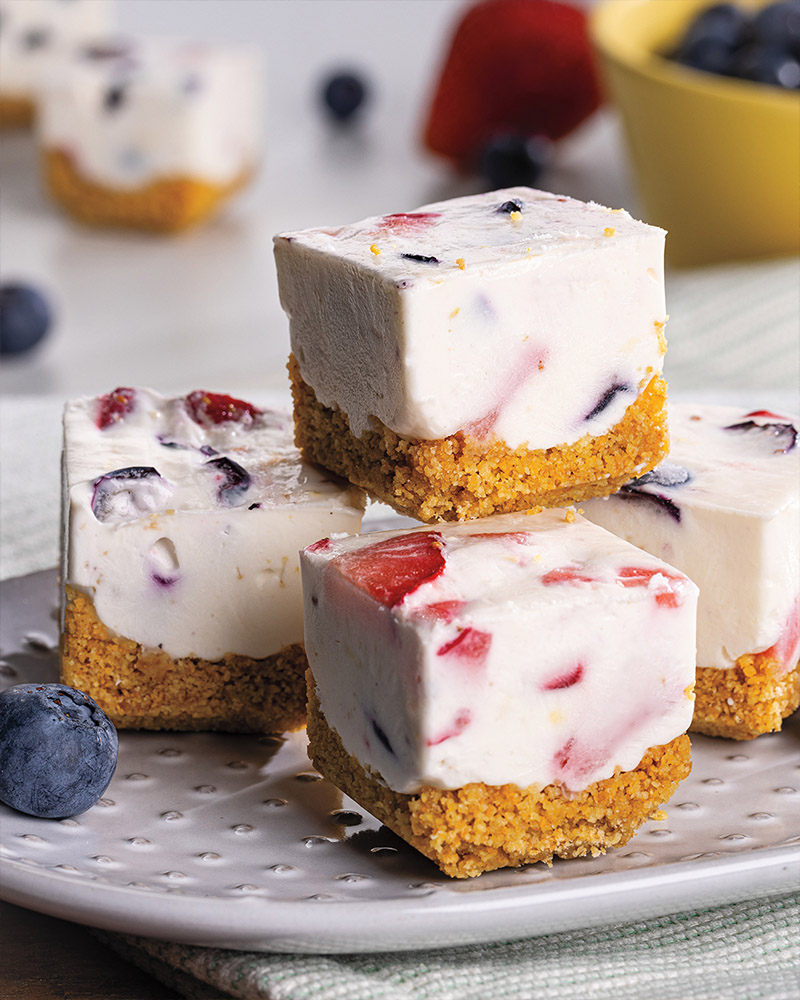 Click to See How-To Video!



Ice Cube Tray Cheesecake Bites
Prep: 15 minutes plus freezing • Serves: 15
9
whole graham cracker sheets, finely crushed (about 1-1/2 cups)
3
tablespoons unsalted butter, melted
1
package (8 ounces) cream cheese, softened
1/2
cup plain Greek yogurt
1/4
cup powdered sugar
2
tablespoons honey
1
tablespoon fresh lemon juice
1/2
tablespoon vanilla extract
1
teaspoon lemon zest
1/2
cup chopped fresh strawberries
1/2
cup halved fresh blueberries
1. In medium bowl, stir graham crackers and butter; divide into 2 ice cube trays with 15 (1-ounce) cavities each and firmly press down into cavities.

2. In medium bowl, with mixer on medium speed, beat cream cheese, yogurt, sugar, honey, lemon juice, vanilla extract and lemon zest 4 minutes or until light and fluffy; fold in strawberries and blueberries. Divide into cavities over graham cracker mixture; freeze at least 4 hours or up to 1 week. Makes 30 bites.


Approximate nutritional values per serving (2 bites):
141 Calories, 9g Fat, 5g Saturated Fat, 22mg Cholesterol, 96mg Sodium,
14g Carbohydrates, 1g Fiber, 8g Sugars, 6g Added Sugars, 2g Protein