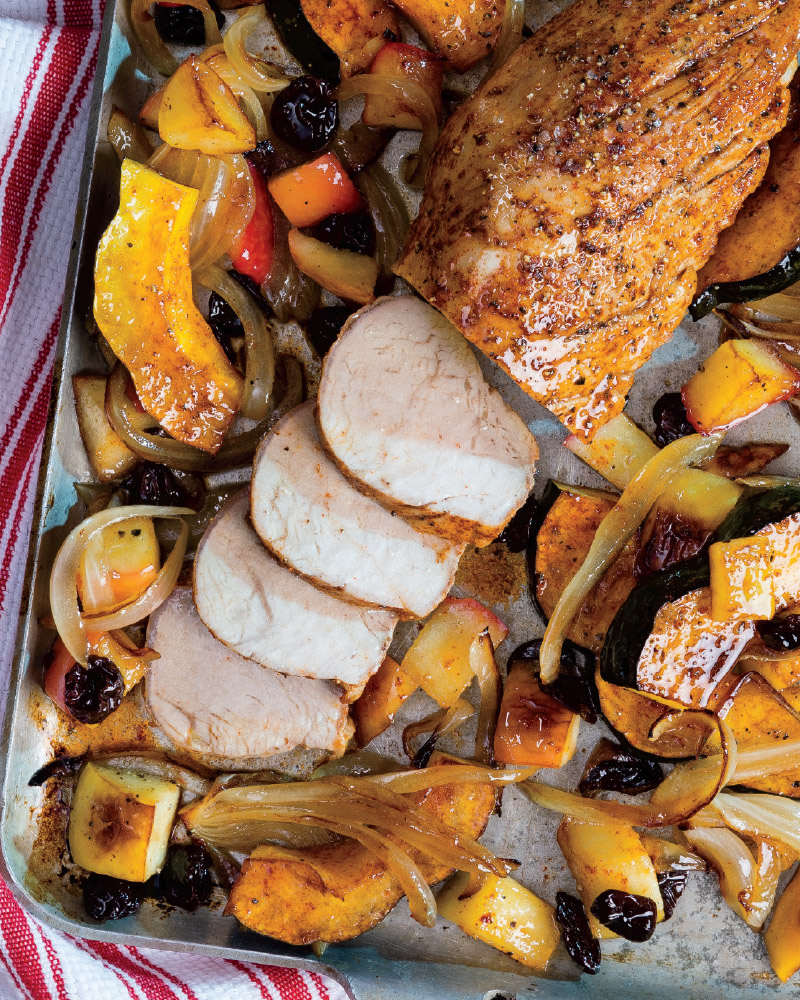 Sheet-Pan Pork Tenderloin & Apples
Prep: 15 minutes plus standing
Roast: 25 minutes • Serves: 4
Nonstick cooking spray
1-1/4
pounds pork tenderloin
2
teaspoons ground cinnamon
1
teaspoon paprika
2
tablespoons olive oil
3/4
teaspoon salt
1/2
teaspoon black pepper
1
garlic clove, minced
1
large Honeycrisp apple, cored and chopped
1/2
medium acorn squash, sliced 1/4-inch thick
1/2
medium yellow onion, thinly sliced
1/2
cup dried cherries
1.Preheat oven to 400°. Line rimmed baking pan with aluminum foil; spray with cooking spray and place pork on pan. In small bowl, stir cinnamon and paprika. Brush all sides of pork with 1 tablespoon oil; sprinkle with 1½ teaspoons cinnamon mixture, 1/2 teaspoon salt and 1/4 teaspoon pepper.

2.In large bowl, toss garlic, apple, squash, onion, cherries, remaining cinnamon mixture and 1 tablespoon oil, and 1/4 teaspoon each salt and pepper; spread on pan around pork. Roast 25 minutes or until internal temperature of pork reaches 145° and vegetable mixture is tender. Let pork stand 5 minutes before slicing.


Approximate nutritional values per serving:
339 Calories, 11g Fat (2g Saturated), 76mg Cholesterol,
503mg Sodium, 36g Carbohydrates, 6g Fiber, 29g Protein

Dietitian's tip:
> Not a fan of squash? So many other vegetables pair well with pork: asparagus, broccoli, cauliflower and green beans.