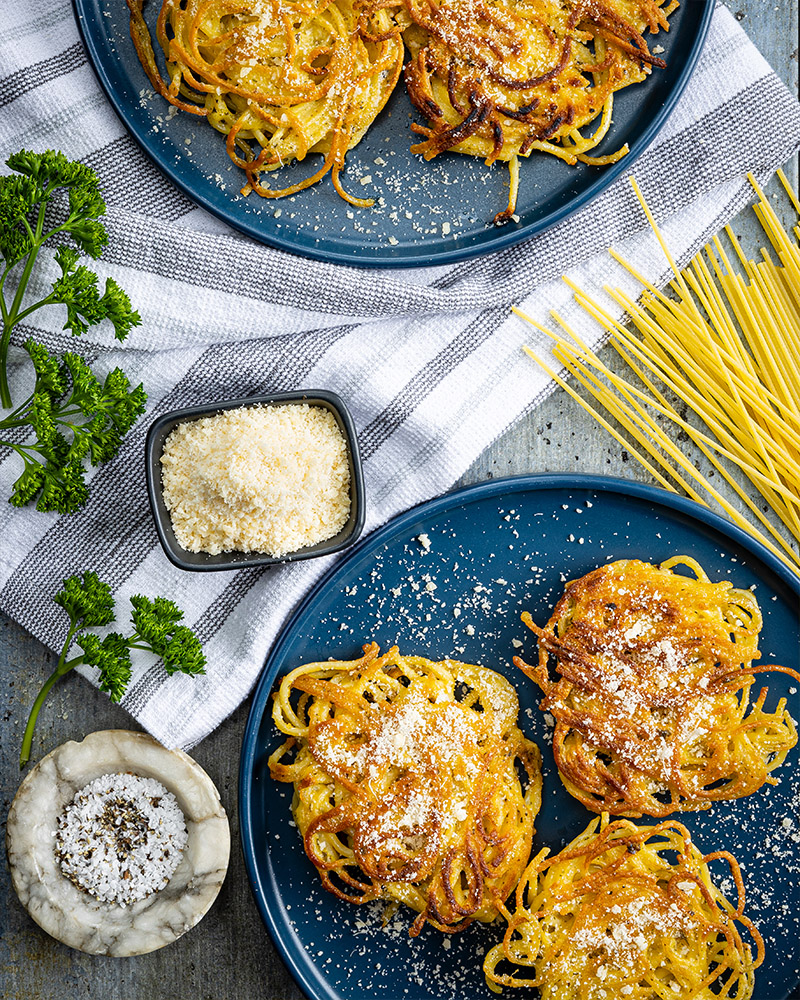 Click to See How-To Video!



Spaghetti Cakes
Prep: 15 minutes plus cooling
Cook: 30 minutes • Serves: 30
1/2
pound cooked Our Family® thin spaghetti
3
large Our Family® eggs
1
tablespoon Our Family® unsalted butter, softened
1/4
cup Our Family® grated Parmesan cheese plus additional for serving (optional)
1
teaspoon Our Family® parsley flakes
1/2
teaspoon kosher salt
1/4
teaspoon Our Family® black pepper spice grinder
1/2
cup olive oil
1. Heat medium saucepot of water to a boil over high heat. Add spaghetti and cook 30 seconds or until heated through; drain and cool slightly.

2. In small bowl, whisk eggs. In large bowl, toss butter and spaghetti; stir in cheese, parsley flakes, salt, pepper and eggs. Makes about 3-3/4 cups.

3. In batches, in large skillet, heat 1 tablespoon oil over medium-high heat. With fork, add 4 (2 tablespoon) mounds spaghetti mixture; cook 4 minutes or until golden brown and crisp, pressing down on cakes with spatula occasionally and turning once. Immediately sprinkle cakes with cheese, if desired. Makes 30 cakes.


Approximate nutritional values per serving (1 cake):
74 Calories, 5g Fat, 1g Saturated Fat, 20mg Cholesterol, 50mg Sodium,
6g Carbohydrates, 0g Fiber, 0g Sugars, 0g Added Sugars, 2g Protein