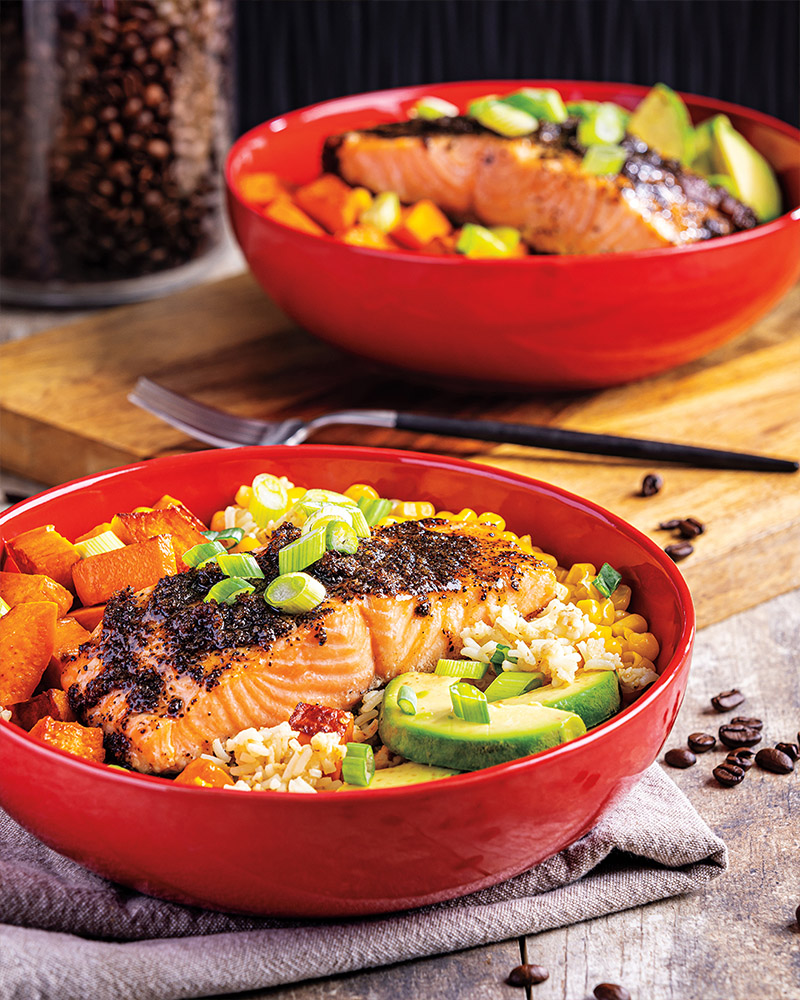 Click to See How-To Video!



Coffee-Rubbed Salmon with Savory Oats & Rice Bowl
Prep: 15 minutes
Roast: 30 minutes • Serves: 4
1
large sweet potato, peeled and chopped
3
tablespoons olive oil
3/4
teaspoon kosher salt
2
tablespoons brown sugar
2
tablespoons ground medium roast coffee
1/2
teaspoon garlic powder
4
salmon fillets (about 5 ounces each)
2
cups chicken stock
1
cup instant oatmeal
1
cup instant white rice
3
green onions, thinly sliced
1
avocado, peeled, pitted and thinly sliced
1
cup frozen corn, thawed
1. Preheat oven to 400°; line rimmed baking pan with nonstick aluminum foil. In large bowl, toss potato, 2 tablespoons oil and 1/4 teaspoon salt; spread on prepared pan and roast 15 minutes, stirring once.

2. In small bowl, whisk brown sugar, coffee, garlic powder, and remaining 1 tablespoon oil and 1/2 teaspoon salt; rub over salmon.

3. Push potato to 1 side of pan; place salmon on opposite side of pan and roast 15 minutes or until internal temperature of salmon reaches 145° and potato is tender.

4. In small saucepot, heat stock to a simmer over medium-high heat; stir in oatmeal and rice. Cover and let stand 5 minutes; fluff with fork.

5. Divide oatmeal mixture into 4 bowls; top with onions, avocado, corn, potato and salmon.


Approximate nutritional values per serving (1 bowl):
687 Calories, 31g Fat, 5g Saturated Fat, 91mg Cholesterol, 776mg Sodium,
62g Carbohydrates, 9g Fiber, 12g Sugars, 7g Added Sugars, 42g Protein