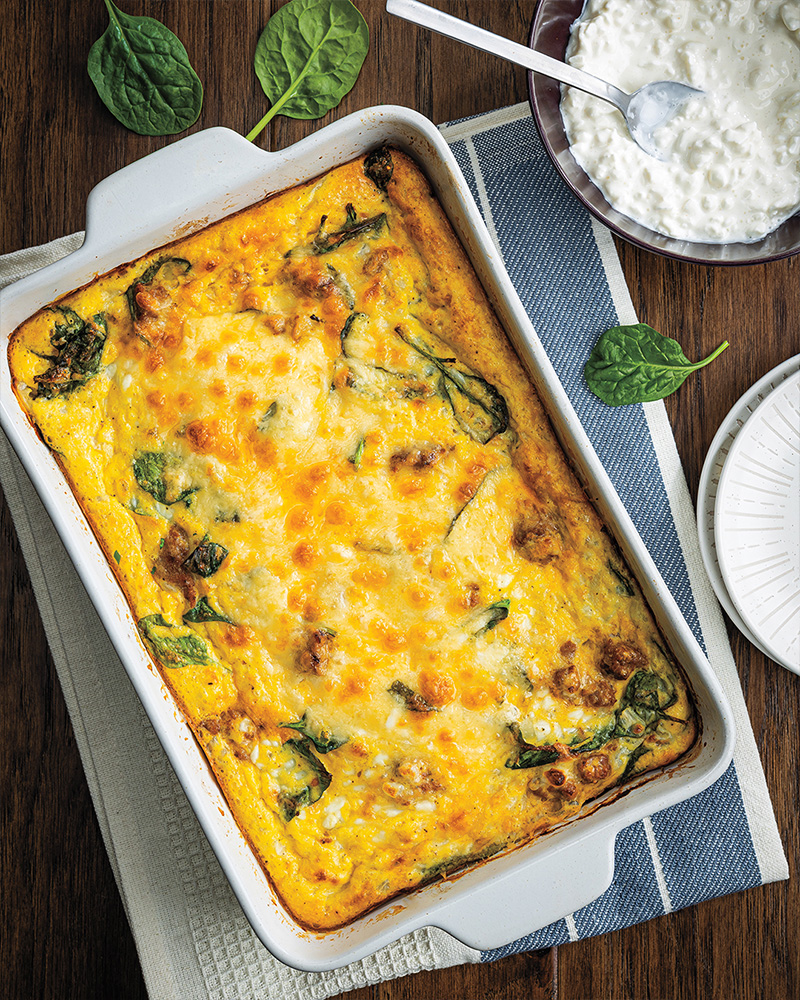 Click to See How-To Video!



Cottage Cheese Florentine Egg Bake
Prep: 15 minutes
Bake: 30 minutes • Serves: 8
Nonstick cooking spray
1
package (20 ounces) sweet Italian turkey sausage, casings removed
2
cups packed baby spinach
1-1/2
cups shredded Havarti cheese
1/2
cup finely chopped yellow onion
8
large eggs
2
cups 4% milkfat small curd cottage cheese
3
tablespoons all-purpose flour
1
teaspoon baking powder
1/2
teaspoon ground black pepper
1. Preheat oven to 350°; spray 13 x 9-inch baking dish with cooking spray. In large skillet, cook sausage over medium-high heat 8 minutes or until browned, breaking up sausage with side of spoon; transfer to paper towel-lined plate.

2. In large bowl, toss spinach, 1/2 cup Havarti cheese, onion and sausage; spread in prepared dish. In same large bowl, whisk eggs, cottage cheese, flour, baking powder and pepper; pour over spinach mixture and sprinkle with remaining 1 cup Havarti cheese.

3. Bake egg bake 30 minutes or until internal temperature reaches 160°, and top is golden brown and slightly puffed. Makes about 8 cups.

4. Cut egg bake into 8 squares.


Approximate nutritional values per serving (1 square):
316 Calories, 17g Fat, 8g Saturated Fat, 254mg Cholesterol, 732mg Sodium,
14g Carbohydrates, 1g Fiber, 9g Sugars, 5g Added Sugars, 27g Protein