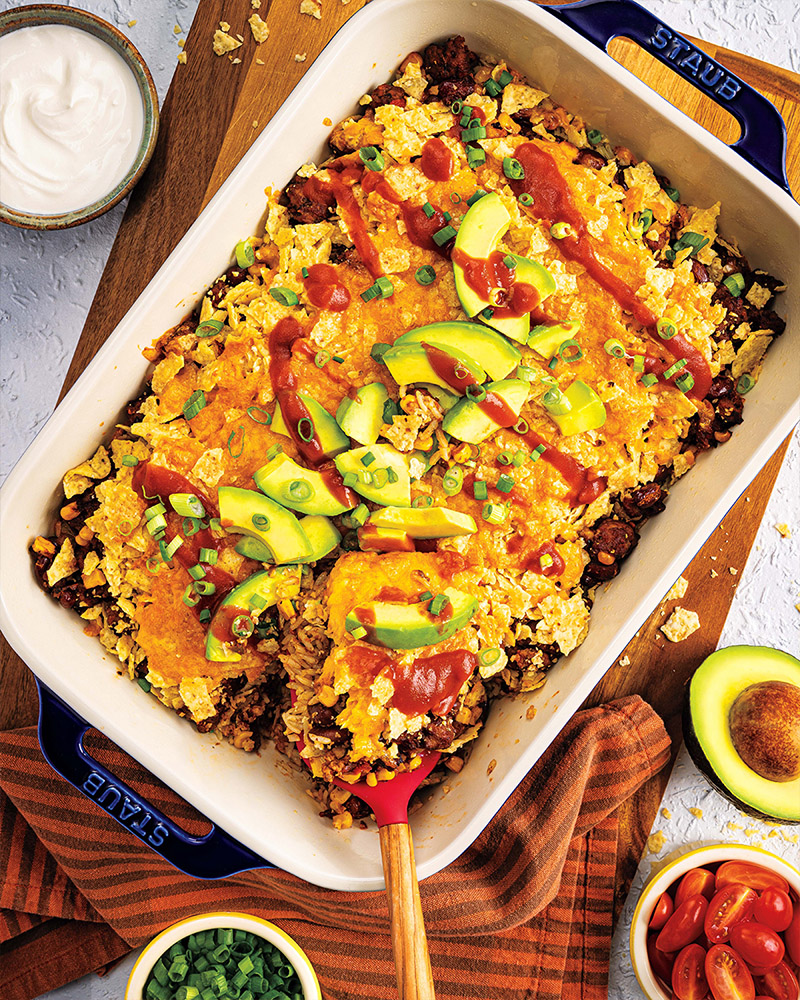 Click to See How-To Video!



Taco Casserole
Prep: 15 minutes
Bake: 20 minutes • Serves: 8
Nonstick cooking spray
1
pound 93% lean ground beef
1
can (16 ounces) pinto beans with jalapeños, drained
1
can (10 ounces) diced tomatoes with lime juice & cilantro
1
packet (1.25 ounces) reduced sodium taco seasoning
1
cup frozen corn, thawed
2
packages (8.8 ounces each) ready to heat cilantro lime rice
3
cups coarsely crushed tortilla chips
2
cups shredded Colby Jack cheese
Chopped avocado, halved grape tomatoes, thinly sliced green onions, thinly sliced iceberg lettuce, lime wedges, light sour cream and/or taco sauce for garnish (optional)
1. Preheat oven to 350°; spray 13 x 9-inch baking dish with cooking spray.

2. In large skillet, cook beef over medium-high heat 7 minutes or until browned, breaking up beef with side of spoon. Add beans, tomatoes with their juice, seasoning, corn and 1/2 cup water; cook 5 minutes or until heated through and most liquid is absorbed, stirring occasionally.

3. Spread rice in bottom of prepared dish; top with beef mixture, and sprinkle with chips and cheese. Bake casserole 20 minutes or until lightly browned and cheese is melted. Makes about 10 cups.

4. Serve casserole topped with avocado, tomatoes, onions, lettuce, lime wedges, sour cream and/or taco sauce, if desired.


Approximate nutritional values per serving (1-1/4 cups):
503 Calories, 19g Fat, 9g Saturated Fat, 63mg Cholesterol, 847mg Sodium,
54g Carbohydrates, 4g Fiber, 3g Sugars, 1g Added Sugars, 25g Protein

Chef Tip
Try serving casserole along with flour tortillas.