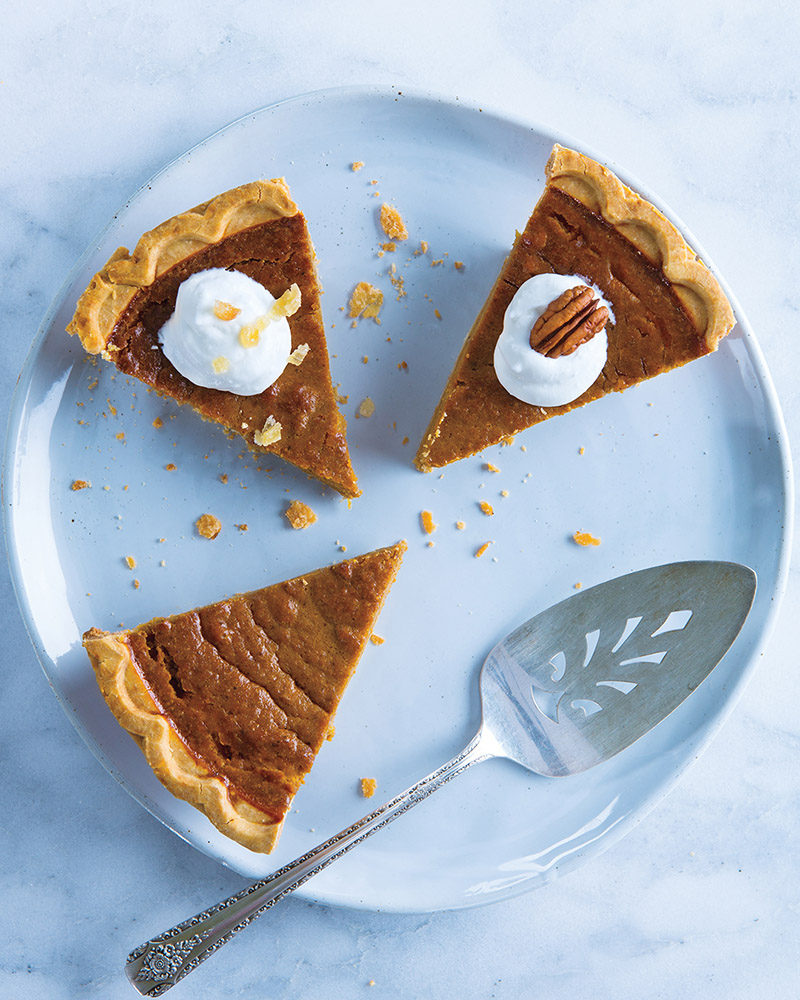 Gluten-Free Gingered Pumpkin Pie
Prep: 20 minutes plus cooling and chilling
Bake: 1 hour 10 minutes • Serves: 8
2
large eggs
1
can (15 ounces) pure pumpkin
3/4
cup half-and-half
4
tablespoons unsalted butter, melted
1
teaspoon pure vanilla extract
1/2
cup packed light brown sugar
1-1/2
teaspoons pumpkin pie spice
1/4
teaspoon salt
2
tablespoons finely chopped crystallized ginger
1
(7.5-ounce) frozen gluten-free pie crust
1.Place large rimmed baking pan in oven; preheat oven to 350°.

2.In large bowl, whisk eggs; add pumpkin, half-and-half, butter and vanilla extract and whisk until well blended. Add sugar, pumpkin pie spice and salt; whisk until well blended. Sprinkle ginger into mixture and blend. Pour pumpkin mixture into pie crust. Place pie pan onto preheated rimmed baking pan; shield pie crust edges with foil strips or pie crust shield to prevent overbrowning, if desired.

3.Bake pie 1 hour 10 minutes to 1 hour 20 minutes or until toothpick inserted in center comes out clean. Cool pie completely on wire rack. Cover and refrigerate at least 2 hours or up to overnight before serving.


Approximate nutritional values per serving:
269 Calories, 14g Fat (9g Saturated), 94mg Cholesterol,
306mg Sodium, 32g Carbohydrates, 2g Fiber, 4g Protein

Cooking Clue:
> Serve pie topped with whipped cream, pecans and/or finely chopped crystallized ginger.