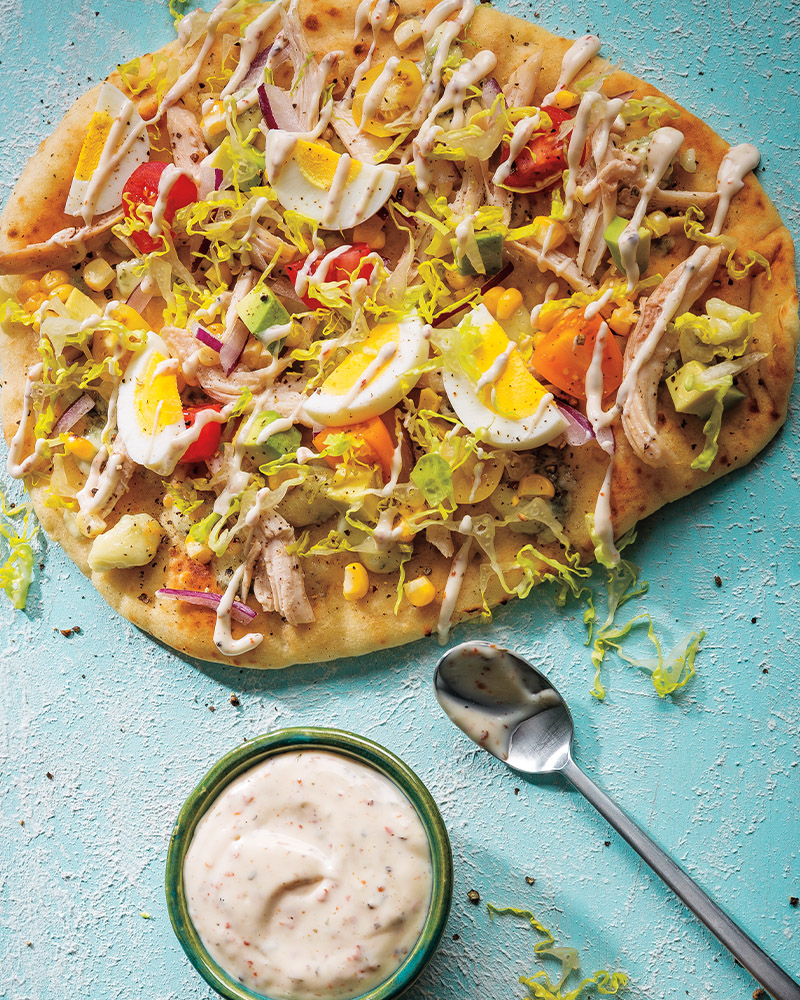 Grilled Chicken Cobb Salad Naan Flatbread
Prep: 20 minutes
Grill: 10 minutes • Serves: 4
1
tablespoon olive oil
1-1/2
teaspoons red wine vinegar
1/4
teaspoon kosher salt
1/4
teaspoon fresh ground black pepper plus additional for garnish (optional)
2
plain naan flatbread rounds
1
cup shredded rotisserie chicken breast
1/4
cup crumbled Gorgonzola cheese
2
refrigerated hard-cooked eggs, chopped
1/4
large avocado, peeled, pitted and chopped
1/2
cup chopped romaine lettuce
1/4
cup chopped grape tomatoes
2
tablespoons diced red onion
2
tablespoons fresh corn kernels cut from cob or thawed frozen corn
2
tablespoons Greek yogurt-based ranch dressing
1.Prepare outdoor grill for direct grilling over medium-high heat. In small bowl, whisk oil, vinegar, salt and pepper. Brush tops of naan with oil mixture; top with chicken and cheese. Place naan on hot grill rack; cover and cook 5 minutes or until bottoms are browned, rotating once.

2.Top naan with eggs, avocado, lettuce, tomatoes, onion, corn and dressing; garnish with pepper, if desired.


Approximate nutritional values per serving (1/2 naan):
404 Calories, 18g Fat (6g Saturated), 134mg Cholesterol,
826mg Sodium, 36g Carbohydrates, 5g Fiber, 24g Protein
Dietitian's tip:
> Add that smoky grilled flavor by grilling your naan bread over medium heat for a few minutes until it crisps up.