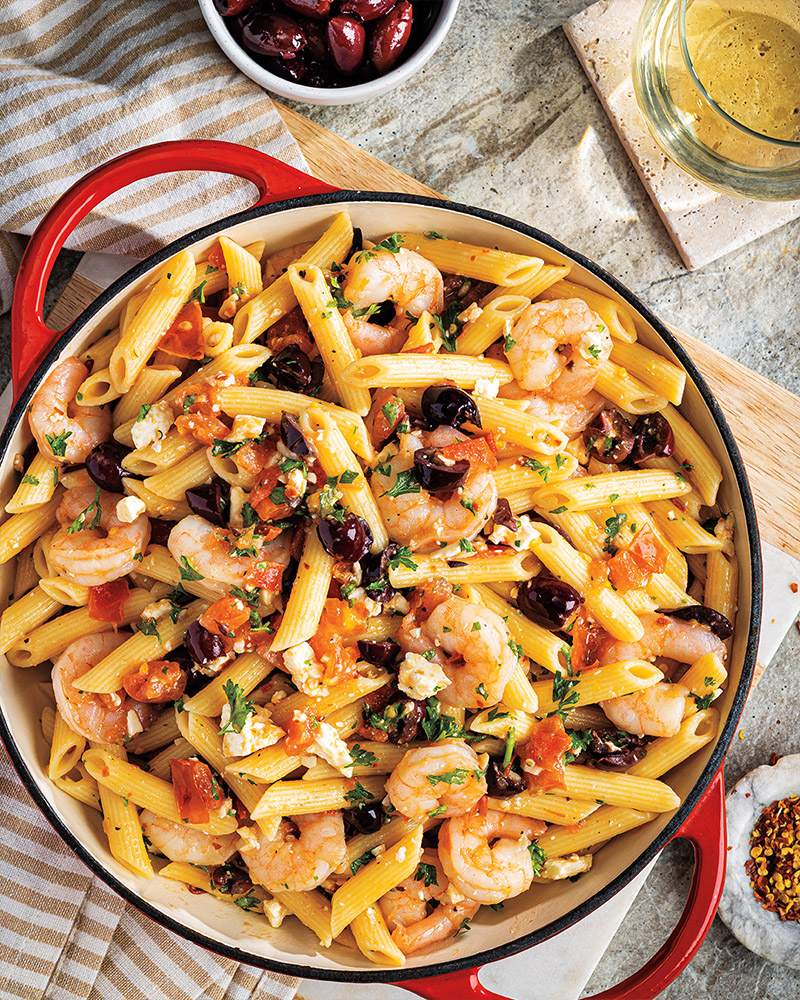 Click to See How-To Video!



Greek Shrimp Pasta
Prep: 15 minutes
Cook: 20 minutes • Serves: 6
1/2
(16-ounce) package penne rigate pasta
1
pound raw 36-40 count peeled and deveined tail-off shrimp, thawed if necessary, patted dry
1/4
teaspoon
Our Family® Salt
1/4
teaspoon
Our Family® Pure Ground Black Pepper
2
tablespoons
Our Family® Unsalted Butter
1/4
cup white wine
2
tablespoons fresh lemon juice
3
garlic cloves, minced
2
medium Roma tomatoes, chopped
1/2
cup drained and chopped Kalamata olives
1/4
teaspoon crushed red pepper flakes
1/2
cup
Our Family® Feta Cheese Crumbles
2
tablespoons chopped fresh parsley plus additional for garnish (optional)
1. Prepare pasta as label directs; drain, return to saucepot and cover to keep warm.
2. In large bowl, toss shrimp, salt and pepper. In large skillet, melt butter over medium-high heat. Add shrimp; cook 4 minutes or until shrimp turn opaque throughout, turning once. Transfer shrimp to paper towel-lined plate.
3. In same skillet with drippings, cook wine and lemon juice over medium heat 1 minute, stirring occasionally. Stir in garlic, tomatoes, olives and crushed red pepper; cook 2 minutes, stirring occasionally. Stir in pasta and shrimp; cook 1 minute or until heated through, stirring occasionally. Add cheese and parsley; toss. Makes about 8 cups.
4. Serve pasta garnished with parsley, if desired.

Approximate nutritional values per serving: 

306 Calories, 11g Fat (5g Saturated), 102mg Cholesterol,
775mg Sodium, 32g Carbohydrates, 2g Fiber, 16g Protein