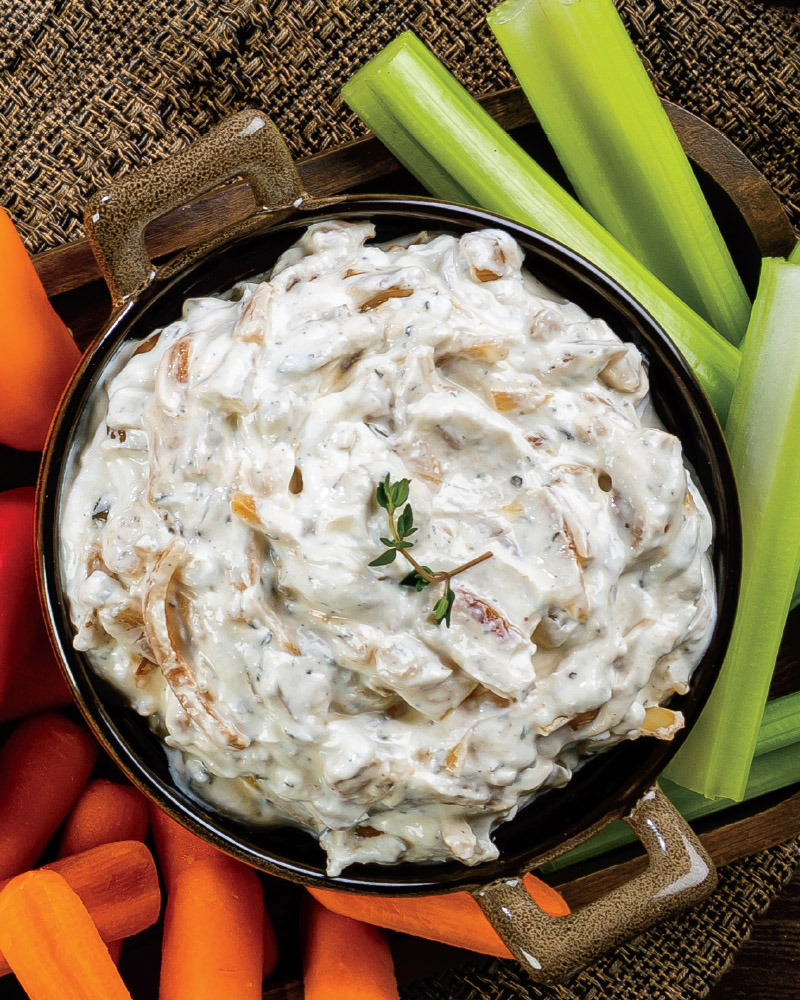 Better-for-You Caramelized Onion Dip
Prep: 15 minutes
Cook: 33 minutes plus cooling and chilling • Serves: 8
1
tablespoon vegetable oil
3
large yellow onions, thinly sliced
2
tablespoons fresh lemon juice
1-1/2
cups plain nonfat Greek yogurt
1
tablespoon garlic powder
1-1/2
teaspoons dried thyme
1/2
teaspoon salt
1/2
teaspoon pepper
1.In a large skillet with 2-inch-high sides, heat oil over medium-high heat; add onions and cook 10 minutes or until golden brown, stirring occasionally. Reduce heat to medium-low; cook 20 minutes or until very soft and dark brown, stirring occasionally. Add lemon juice and 1/4 cup water; cook 2 minutes or until liquid is absorbed. Remove from heat; cool and chop onions.

2.In a medium bowl, stir yogurt, garlic powder, thyme, salt, pepper and onions; cover and refrigerate 1 hour. Makes about 3 cups.


Approximate nutritional values per serving (6 tablespoons):
66 Calories, 2g Fat (0g Saturated), 2mg Cholesterol,
163mg Sodium, 8g Carbohydrates, 1g Fiber, 5g Protein

Chef Tip
Serve dip with favorite raw vegetables, crackers and/or baked chips.
Dietitian's tip:
> Store in an airtight container so you can enjoy all week long. Eat with your favorite raw and roasted veggies, in a lunchtime wrap or as a spread with a grilled burger.