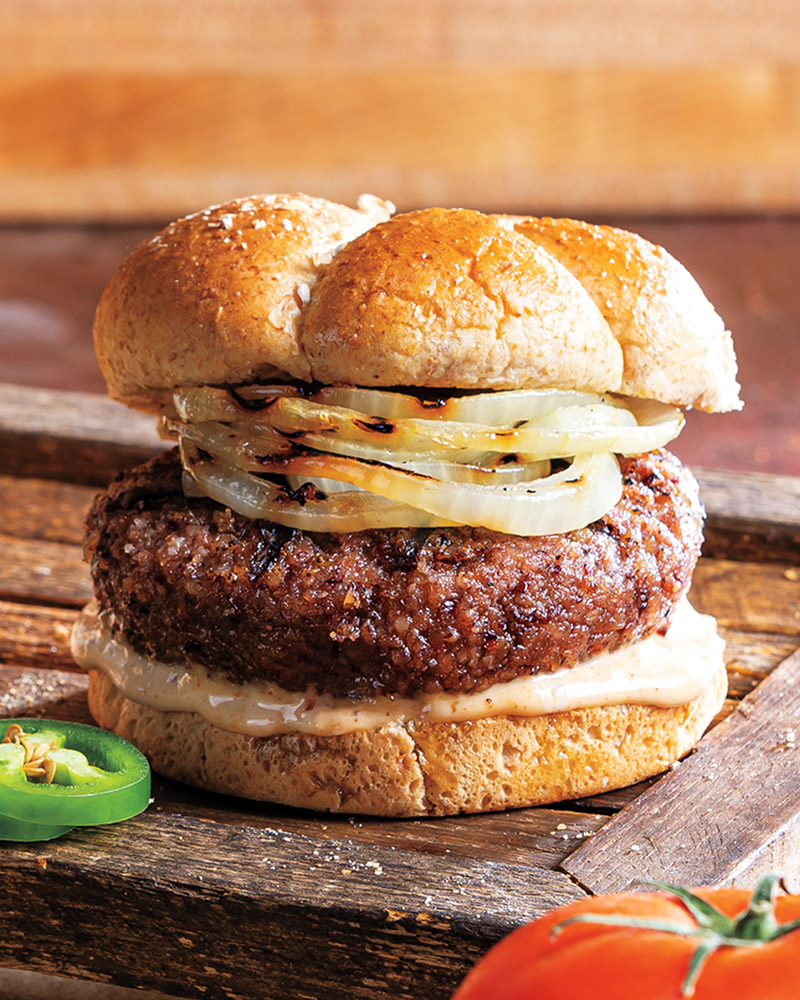 Grilled Red Beans & Rice Burgers
Prep: 20 minutes
Grill: 10 minutes • Serves: 4
1
cup brown rice
1
can (15.5 ounces) no salt added dark red kidney beans, drained, rinsed and patted dry
1/2
cup panko breadcrumbs
1/2
cup walnut pieces
2
teaspoons salt-free steak grilling blend seasoning
1
teaspoon black pepper
1
teaspoon garlic powder
3
tablespoons avocado oil mayonnaise
2
tablespoons steak sauce
4
(1/2-inch-thick) slices Vidalia onion
Nonstick cooking spray
4
whole wheat hamburger buns
1.Prepare outdoor grill for direct grilling over medium-high heat. Prepare rice as label directs; cool slightly.

2.In food processor, process rice, beans, breadcrumbs, walnuts, steak seasoning, pepper and garlic powder 2 minutes or until a thick dough forms but some small pieces remain, scraping down bowl occasionally; form into 4 (1/2-inch-thick) patties.

3.In small bowl, whisk mayonnaise and steak sauce. Makes about 1/4 cup.

4.Spray both sides of onions and patties with cooking spray; place on hot grill rack. Cover and cook onions 8 minutes or until tender and lightly charred, turning once; cook burgers 10 minutes or until lightly browned, turning once. Serve burgers in buns topped with onion and mayonnaise mixture.


Approximate nutritional values per serving (1 burger):
519 Calories, 21g Fat (3g Saturated), 12mg Cholesterol,
473mg Sodium, 72g Carbohydrates, 9g Fiber, 11g Protein

Chef Tip
For a timesaver, use packaged ready-to-serve brown rice.
Dietitian's tip:
> Grab your Side Door Deli English Cucumber Tomato Salad as a refreshing side