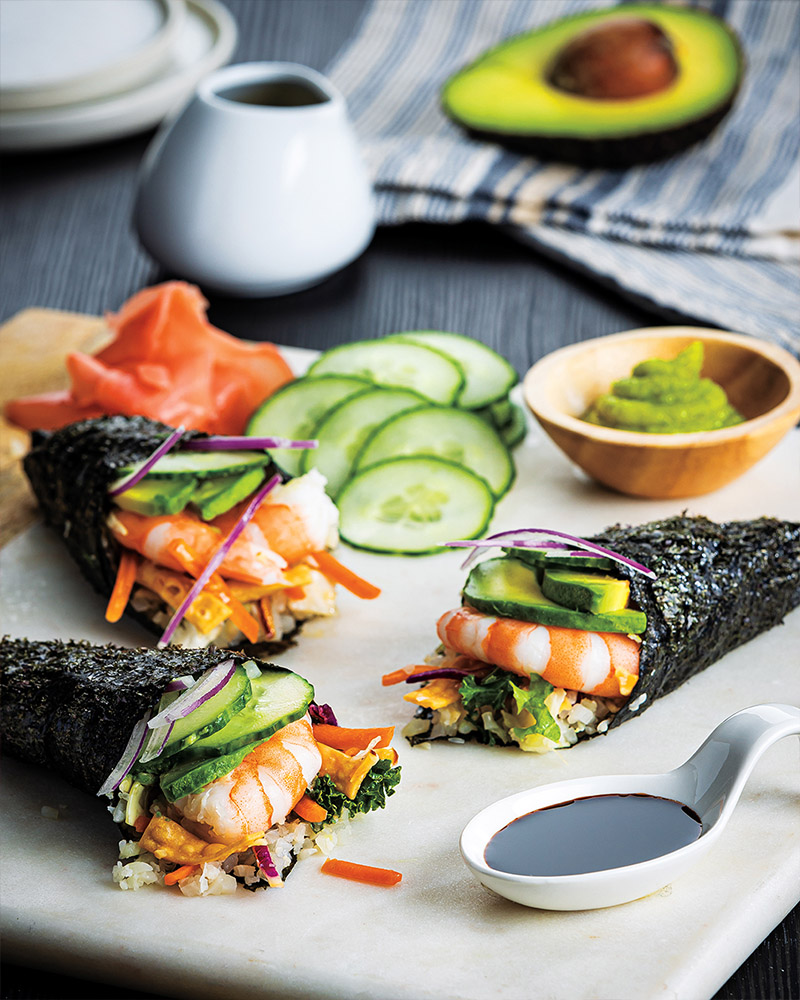 Click to See How-To Video!



Sushi Hand Roll
Prep: 45 minutes plus cooling
Microwave: 5 minutes • Serves: 8
1
package (10 ounces) frozen steamable cauliflower rice
1
package (6.5 ounces) Asian-style chopped salad kit
8
sheets nori, halved lengthwise
32
cooked 26-30 count tail-off peeled and deveined shrimp (about 1 pound), thawed if necessary
2
avocados, peeled, pitted and thinly sliced
32
thin slices English cucumber
1/2
cup thinly sliced red onion
Less-sodium soy sauce and/or wasabi for serving (optional)
1. Prepare rice as label directs; cool completely. Makes about 2-1/2 cups.

2. Prepare salad as label directs. Makes about 2 cups.

3. Lay 1 nori sheet on work surface with 1 long end facing toward you; spread 2-1/2 tablespoons rice over right half of sheet. Top rice with rows of about 2 tablespoons salad, 2 shrimp, 1/16 avocado, 2 cucumber slices and 1/2 tablespoon onion, laying all ingredients at a diagonal towards upper right corner of nori. Starting with bottom right corner of nori, tightly roll nori and rice around fillings to form a cone-shape; seal edges with a small amount of water. Repeat with remaining nori and ingredients to make 15 more rolls.

4. Serve hand rolls with soy sauce and/or wasabi, if desired.


Approximate nutritional values per serving (2 hand rolls):
218 Calories, 11g Fat, 2g Saturated Fat, 115mg Cholesterol, 278mg Sodium,
13g Carbohydrates, 6g Fiber, 5g Sugars, 2g Added Sugars, 19g Protein