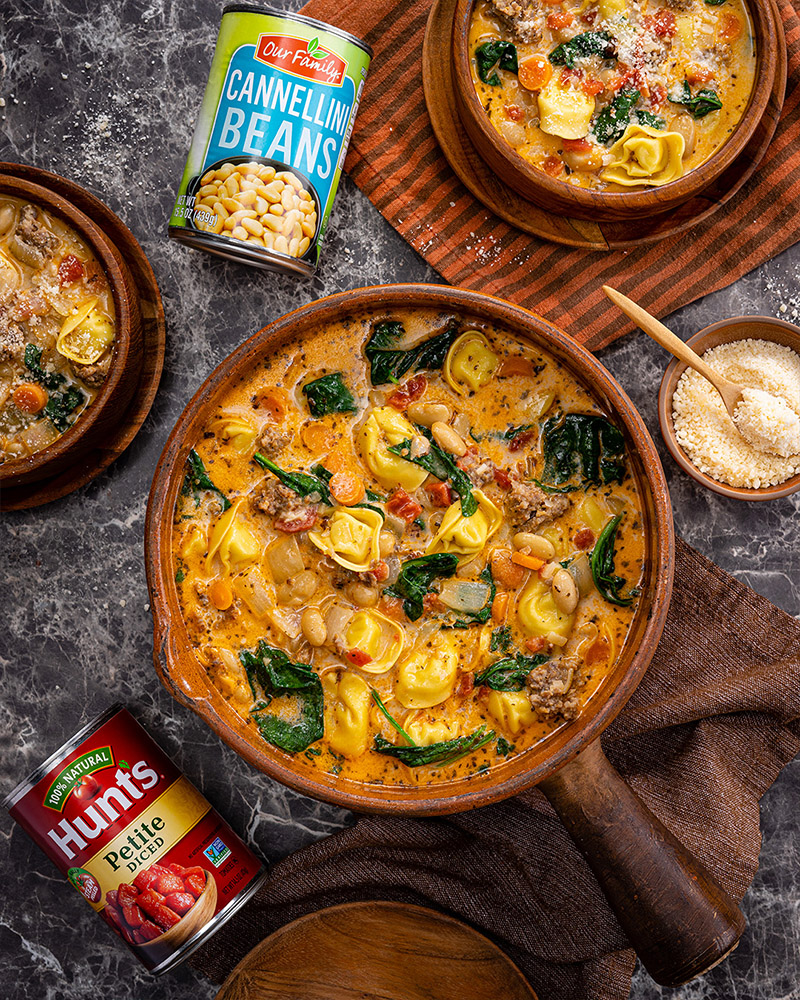 Click to See How-To Video!



Slow Cooker Italian Sausage & Tortellini Soup
Prep: 18 minutes
Slow Cook: 4 hours 15 minutes • Serves: 8
1
pound Italian sausage
2
cans (15.5 ounces each) cannellini beans, drained and rinsed
1
can (14.5 ounces)
Hunt's® petite diced tomatoes
4
garlic cloves, minced
2
medium carrots, chopped
1
small white onion, chopped
4
cups less-sodium chicken broth
1-1/2
tablespoons fresh lemon juice
2
tablespoons
Our Family® Italian seasoning
1
package (20 ounces) refrigerated three cheese tortellini
2
cups packed baby spinach
1
cup heavy cream, at room temperature
1/2
cup grated Parmesan cheese
1. In large skillet, cook sausage over medium-high heat 8 minutes or until browned, breaking up sausage with side of spoon, stirring occasionally.

2. In 5- to 6-quart slow cooker, stir beans, tomatoes with their juice, garlic, carrots, onion, broth, lemon juice, seasoning and sausage with drippings; cover and cook on high 4 hours or low 8 hours.

3. Stir tortellini into slow cooker; cover and cook 10 minutes or until tortellini is tender and heated through. Stir in spinach and cream; cover and cook 5 minutes or until spinach is wilted, stirring occasionally. Makes about 12 cups.

4. Serve soup sprinkled with cheese.


Approximate nutritional values per serving (1-1/2 cups):
570 Calories, 30g Fat, 14g Saturated Fat, 99mg Cholesterol, 1240mg Sodium,
51g Carbohydrates, 7g Fiber, 6g Sugars, 1g Added Sugars, 26g Protein