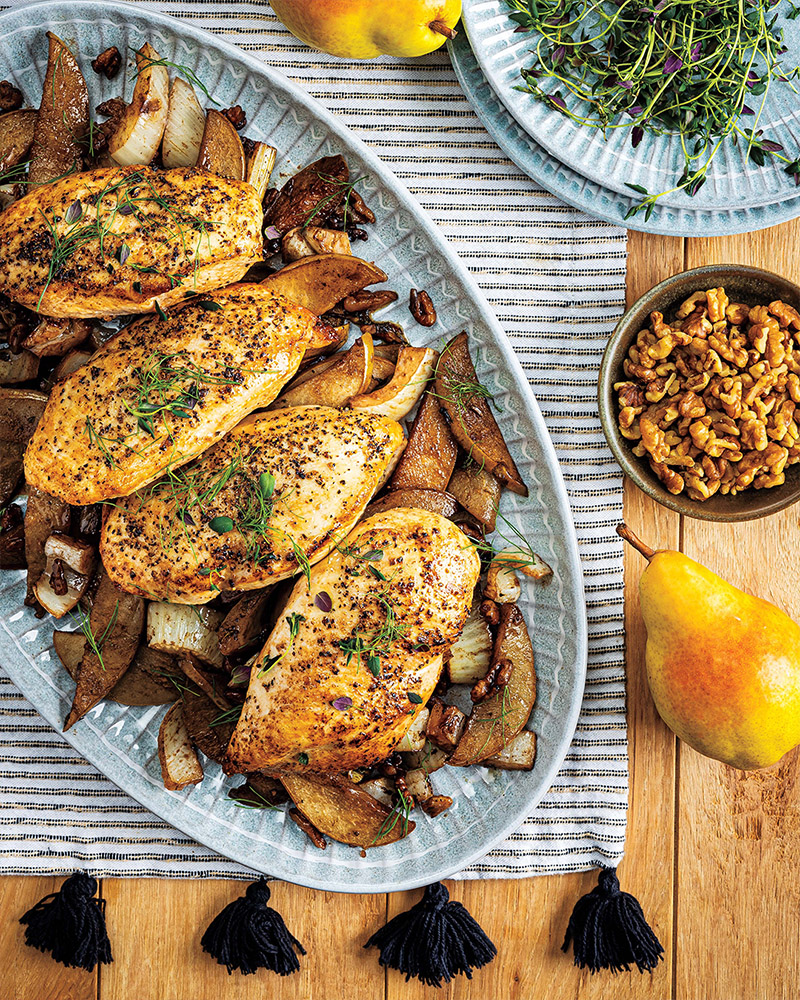 Click to See How-To Video!



Roasted Chicken with Balsamic Pears & Fennel
Prep: 15 minutes
Roast: 30 minutes • Serves: 4
4
boneless, skinless chicken breasts (about 5 ounces each)
3/4
teaspoon kosher salt
1/2
teaspoon ground black pepper
2
tablespoons olive oil
2
tablespoons unsalted butter
2
medium Bartlett pears, halved lengthwise, cored and thinly sliced crosswise
1
medium fennel bulb, cut into 1-inch pieces, fronds reserved for garnish (optional)
1
medium garlic clove, minced
1/3
cup chopped walnuts
1/4
cup balsamic vinegar
2
tablespoons maple syrup
2
teaspoons chopped fresh thyme plus additional for garnish (optional)
1. Preheat oven to 400°; line rimmed baking pan with nonstick aluminum foil. Sprinkle both sides of chicken with 1/2 teaspoon salt and pepper.

2. In large skillet, heat 1 tablespoon oil and butter over medium-high heat 1 minute or until butter is melted. Add chicken; cook 5 minutes or until browned, turning once. Transfer chicken to center of prepared pan.

3. In large bowl, toss pears, fennel, garlic, walnuts, vinegar, syrup, thyme, and remaining 1/4 teaspoon salt and 1 tablespoon oil; spread around chicken on pan. Roast chicken and pear mixture 30 minutes or until internal temperature of chicken reaches 165°, and pear mixture is browned and tender. Makes about 3 cups pear mixture.

4. Serve chicken over pear mixture garnished with thyme and fronds, if desired.


Approximate nutritional values per serving (1 chicken breast, 3/4 cup pear mixture):
431 Calories, 22g Fat, 6g Saturated Fat, 94mg Cholesterol, 463mg Sodium,
27g Carbohydrates, 5g Fiber, 19g Sugars, 6g Added Sugars, 31g Protein