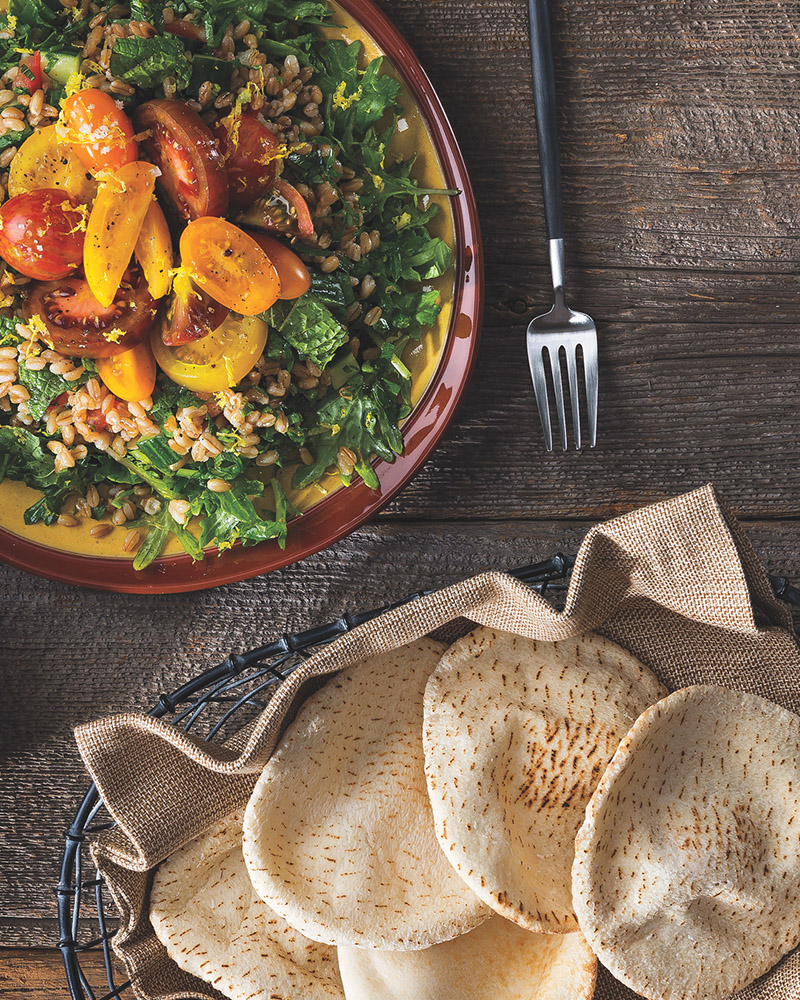 Farro Tabbouleh over Baby Kale Salad
Prep: 20 minutes plus standing
Cook: 10 minutes • Serves: 4
Massaged Kale Salad
2
tablespoons extra virgin olive oil
1-1/2
teaspoons fresh lemon juice
1/4
teaspoon sea salt
1
package (5 ounces) baby kale
Farro Tabbouleh
2/3
cup Nature's Earthly Choice Italian Pearled Farro, rinsed and drained
2-1/2
tablespoons fresh lemon juice
2
tablespoons minced shallot
2
teaspoons honey
1
teaspoon sea salt
3/4
teaspoon dry Morton & Bassett Harissa Spice
1/4
teaspoon pumpkin pie spice
1
pinch ground turmeric
1/4
cup plus 1 teaspoon
extra virgin olive oil
1-1/2
cups coarsely chopped fresh curly parsley (from 1 bunch)
3
tablespoons coarsely chopped fresh mint leaves
1/8
teaspoon fresh ground black pepper
1
cup diced English cucumber
1-1/4
cups halved red and/or yellow cherry tomatoes
1/4
teaspoon lemon zest
1.Prepare Kale Salad: In large bowl, whisk oil, lemon juice and salt; add kale and massage with hands 3 minutes or until kale begins to wilt and soften; refrigerate 30 minutes.

2.Prepare Farro Tabbouleh: In medium covered saucepot, heat 2 cups water and farro to a boil over medium-high heat; reduce heat to low and simmer, covered, 12 minutes or until al dente. Drain, if necessary; cool. Makes about 1-3/4 cups.

3.In large bowl, whisk lemon juice, shallot, honey, 1/2 teaspoon salt, harissa, pie spice and turmeric; whisking constantly, slowly drizzle in 1/4 cup oil until emulsified. Add parsley, mint, pepper, farro and remaining 1/2 teaspoon salt; toss until combined. Let stand 10 minutes; fold in cucumber.

4.In medium bowl, toss tomatoes, lemon zest and remaining 1 teaspoon oil.

5.To serve, layer kale salad, farro mixture and tomato mixture on plate.


Approximate nutritional values per serving:
354 Calories, 23g Fat (3g Saturated), 0mg Cholesterol,
680mg Sodium, 34g Carbohydrates, 7g Fiber, 8g Protein

Cooking Clues
Serve with pita bread and hummus drizzled
with olive oil. Or, visit our blog to pair it with our simple-to-make Roasted Eggplant Dip.
Dietitian's tip:
> Move aside quinoa; farro, an ancient grain high in fiber, is quickly gaining popularity. Try adding farro to soups, salads, or even making a special twist on classic Italian risotto.