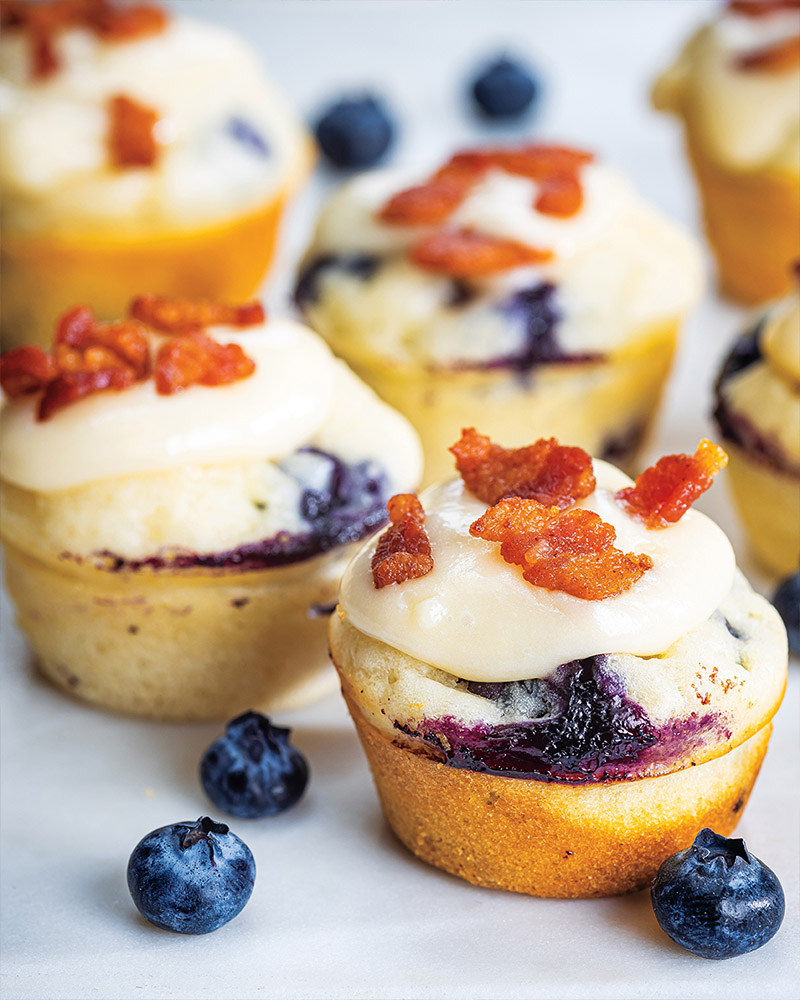 Sweet & Salty Blueberry Pancake Bites
Prep: 20 minutes plus cooling
Bake: 15 minutes • Serves: 12
Nonstick cooking spray
3
cups all-purpose flour
1/4
cup granulated sugar
1
tablespoon baking powder
2-1/4
cups whole milk
1/2
cup aquafaba (liquid from canned chickpeas)
6
tablespoons unsalted butter, melted
2
teaspoons vanilla extract
1
cup blueberries
6
slices thick-cut bacon, finely chopped
1/4
(8-ounce) package cream cheese, softened
3/4
cup powdered sugar
1/4
cup maple syrup
1. Preheat oven to 375°; spray 2 (24-cup) mini muffin pans with cooking spray. In large bowl, whisk flour, granulated sugar and baking powder.

2. In medium bowl, whisk milk, aquafaba, butter and vanilla extract; whisk into flour mixture until just combined. Fold in blueberries; divide batter into prepared pans. Bake pancake bites 15 minutes or until toothpick inserted in center of bites comes out clean; cool 5 minutes in pans, then transfer to wire rack to cool completely.

3. In large skillet, cook bacon over medium-high heat 5 minutes or until crisp, stirring occasionally; transfer to paper towel-lined plate.

4. In small bowl, whisk cream cheese, powdered sugar and syrup; drizzle over bites and sprinkle with bacon. Makes 48 bites.


Approximate nutritional values per serving (4 bites):
295 Calories, 10g Fat, 6g Saturated Fat, 27mg Cholesterol, 84mg Sodium,
45g Carbohydrates, 1g Fiber, 19g Sugars, 16g Added Sugars, 6g Protein