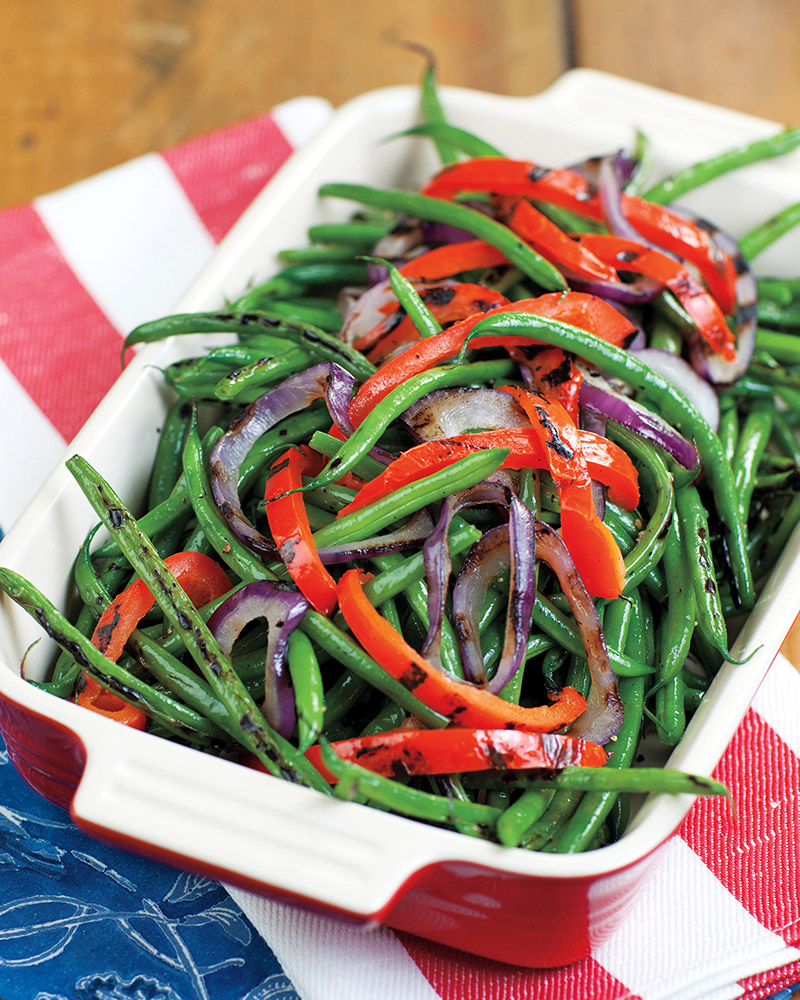 Grilled Green Beans with Peppers & Onions
Prep: 15 minutes
Grill: 10 minutes • Serves: 8
2
red bell peppers, cut lengthwise in half and seeds removed
1
medium red onion, cut crosswise into 1/4-inch-thick slices
2
tablespoons plus 1 teaspoon olive oil
1-1/4
teaspoons salt
1-1/2
teaspoons coarsely ground black pepper
2
pounds fresh haricot vert French beans or green beans, trimmed
1.Prepare outdoor grill for direct grilling over medium heat. Brush both sides of peppers and onion slices with 1 teaspoon oil, and sprinkle with 1/4 teaspoon salt and 1/2 teaspoon black pepper. In large bowl, toss beans with remaining 2 tablespoons oil until well coated

2.Place peppers and onion slices on hot grill rack and cook 7 to 10 minutes or until tender, turning vegetables once halfway through cooking. Transfer vegetables to cutting board.

3.Meanwhile, preheat grill basket or grid on hot grill rack 1 minute. Add beans to basket, in batches if necessary, and cook 3 to 5 minutes (6 to 8 minutes for green beans), or until charred in spots and tender, stirring occasionally. Transfer beans to large bowl.

4.Cut bell peppers into 1/4-inch-thick slices and separate onion into rings. Add peppers, onion and remaining 1 teaspoon each salt and black pepper to bowl with beans; toss until well combined.


Approximate nutritional values per serving: 

82 Calories, 4g Fat (1g Saturated), 0mg Cholesterol,
340mg Sodium, 11g Carbohydrates, 4g Fiber, 2g Protein

Cooking Clues
Haricot vert is French for "green string bean." This variety tends to be longer and thinner than conventional green beans, but either variety works well in this recipe.
Dietitian's tips:
> Increase the color variety on your plate by using different colored bell peppers: green, red, or orange bell peppers!