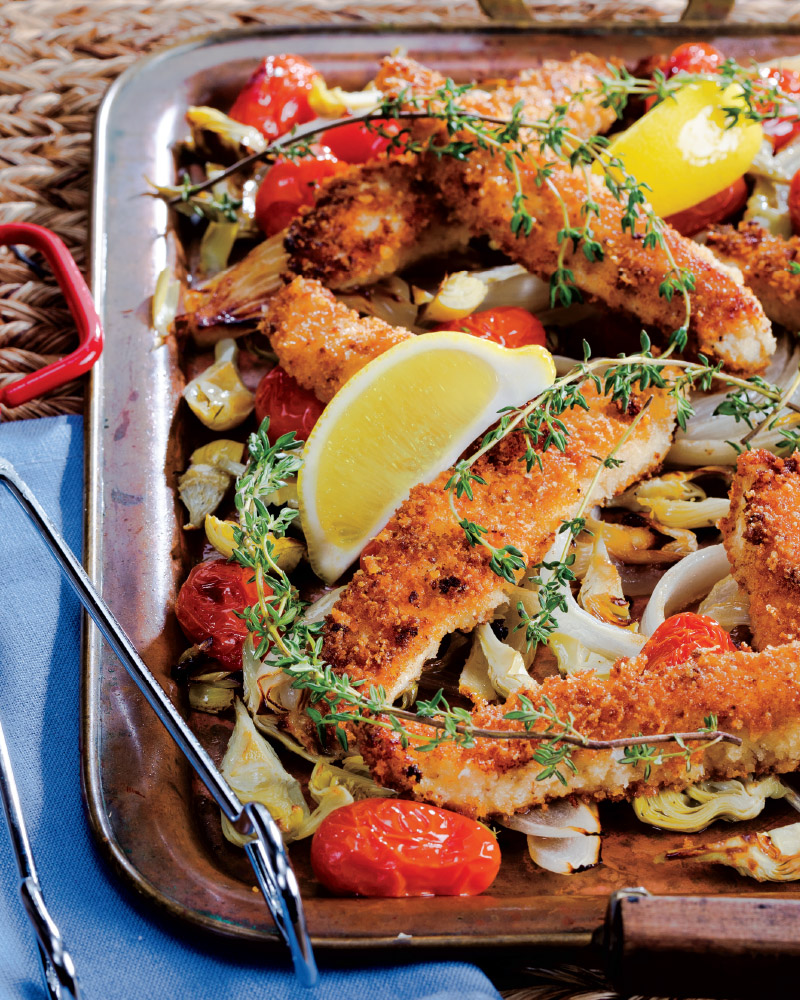 Sheet Tray Lemon-Parmesan Chicken with Artichokes, Tomatoes & Onions
Prep: 20 minutes
Bake: 35 minutes • Serves: 4
Nonstick cooking spray
1
medium yellow onion, cut into 8 wedges
2
tablespoons Dijon or coarse mustard
2
tablespoons lemon juice
2
tablespoons unsalted butter, melted
1
cup panko breadcrumbs
2
tablespoons grated Parmesan cheese
1/4
teaspoon black pepper
1-1/4
pounds boneless, skinless chicken tenders or breasts, breasts cut into 1-inch strips
1
can (14 ounces) quartered artichoke hearts, drained and rinsed
1
cup cherry or grape tomatoes
Fresh thyme sprigs and lemon wedges for garnish (optional)
1.Preheat oven to 425°; spray large rimmed sheet tray with nonstick cooking spray. Spread onion in single layer on prepared tray and spray with cooking spray; roast 10 minutes.

2.In wide, shallow dish, stir mustard, lemon juice and butter. In large zip-top plastic bag, combine breadcrumbs, cheese and pepper.

3.In batches, dip chicken in mustard mixture to coat; add to bag with breadcrumbs and toss to coat.

4.Push onion to 1 side of tray; spray onion and tray with cooking spray. Stir artichokes and tomatoes into onion; place chicken in single layer on opposite side of tray. Spray chicken and vegetables with cooking spray.

5.Roast 10 minutes or until bottom of chicken is brown; turn chicken and stir vegetables. Roast 15 minutes longer or until internal temperature of chicken reaches 165°. Serve chicken and vegetables garnished with fresh thyme sprigs and lemon wedges, if desired.


Approximate nutritional values per serving:
358 Calories, 14g Fat (5g Saturated), 95mg Cholesterol,
607mg Sodium, 30g Carbohydrates, 3g Fiber, 30g Protein

Cooking Clue
Stir 1 teaspoon dried thyme leaves into onion along with artichokes and tomatoes for additional flavor.
Dietitian's tip:
> Don't like artichoke hearts? Try swapping out for fresh cut asparagus.