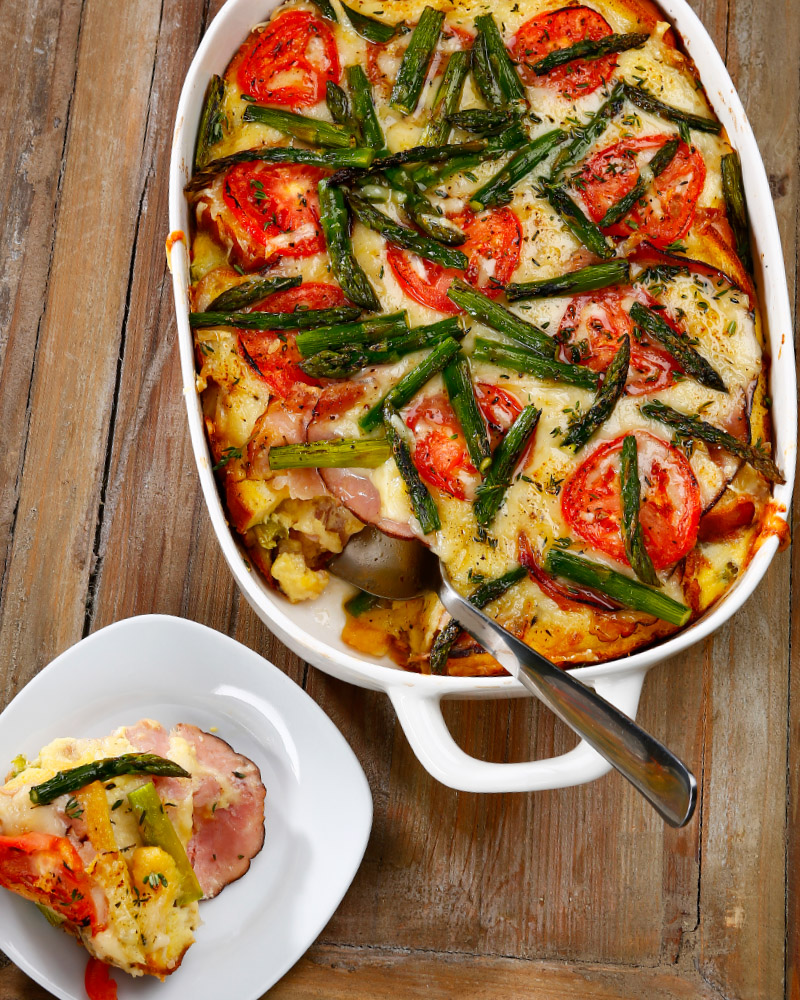 Ham, Asparagus & Gruyère Strata
Prep: 35 minutes plus standing
Bake: 1 hour • Serves: 12
2
teaspoons unsalted butter
3/4
(15-ounce) loaf Challah bread, cut into 1/2-inch slices
1
pound thinly shaved ham
1
pound Gruyère cheese, shredded (about 4 cups)
2
large Roma tomatoes, thinly sliced
1
bunch asparagus (about 1 pound), cut crosswise into 1-1/2-inch pieces (about 3 cups)
15
large eggs
1/4
cup heavy cream
1
tablespoon chopped fresh thyme leaves plus additional for garnish (optional)
1/4
teaspoon salt
1/8
teaspoon ground black pepper
1.Grease 13 x 9-inch or 3-quart glass or ceramic baking dish with butter.

2.In bottom of prepared dish, using half of each, evenly layer bread, tearing to fit if necessary, ham, cheese, tomatoes and asparagus; repeat layers with remaining half of each ingredient.

3.In large bowl, whisk eggs; add cream, thyme, salt and pepper, and whisk until blended. Evenly pour egg mixture over bread mixture; cover and refrigerate at least 4 hours or up to overnight.

4.Preheat oven to 350°. Bake strata, uncovered, 1 hour or until top is golden brown, toothpick inserted in center comes out clean and internal temperature reaches 165°. Let stand 10 minutes; sprinkle with thyme, if desired, to serve.


Approximate nutritional values per serving:
404 Calories, 23g Fat (12g Saturated), 328mg Cholesterol,
903mg Sodium, 17g Carbohydrates, 1g Fiber, 28g Protein

Dietitian's tip:
> Opt for the low sodium ham from the deli if you are on a heart healthy diet. You can also swap the heavy cream for half and half to reduce down the calories from saturated fat.