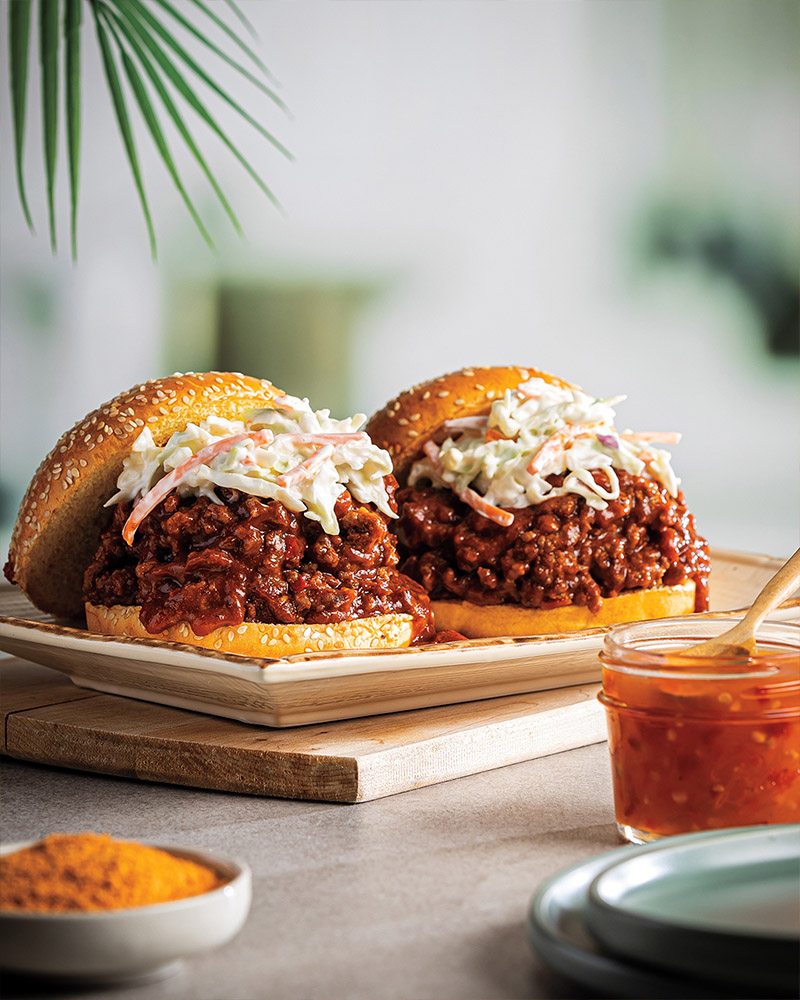 Click to See How-To Video!



Thai Sloppy Joes
Prep: 15 minutes
Cook: 15 minutes • Serves: 8
2
cups classic coleslaw mix
1/2
cup mayonnaise
1
pound 85% lean ground beef
1
can (6 ounces) tomato paste
1
package (1.25 ounces) Our Family® Sloppy Joe Seasoning Mix
1
cup Thai sweet chili sauce
8
sesame seed hamburger buns
1. In medium bowl, toss coleslaw mix and mayonnaise; cover and refrigerate. Makes about 2 cups.

2. In large skillet, cook beef over medium-high heat 5 minutes or until browned, breaking up beef with side of spoon; drain. Add tomato paste, seasoning, chili sauce and 1-1/4 cups water; heat to a simmer. Reduce heat to medium-low; cook 10 minutes or until slightly thickened, stirring occasionally. Makes about 3-1/2 cups.

3. Serve sloppy Joe mixture in buns topped with coleslaw mixture. Makes 8 sloppy Joes.


Approximate nutritional values per serving (1 sloppy Joe):
519 Calories, 22g Fat, 5g Saturated Fat, 56mg Cholesterol, 983mg Sodium,
53g Carbohydrates, 6g Fiber, 19g Sugars, 16g Added Sugars, 25g Protein