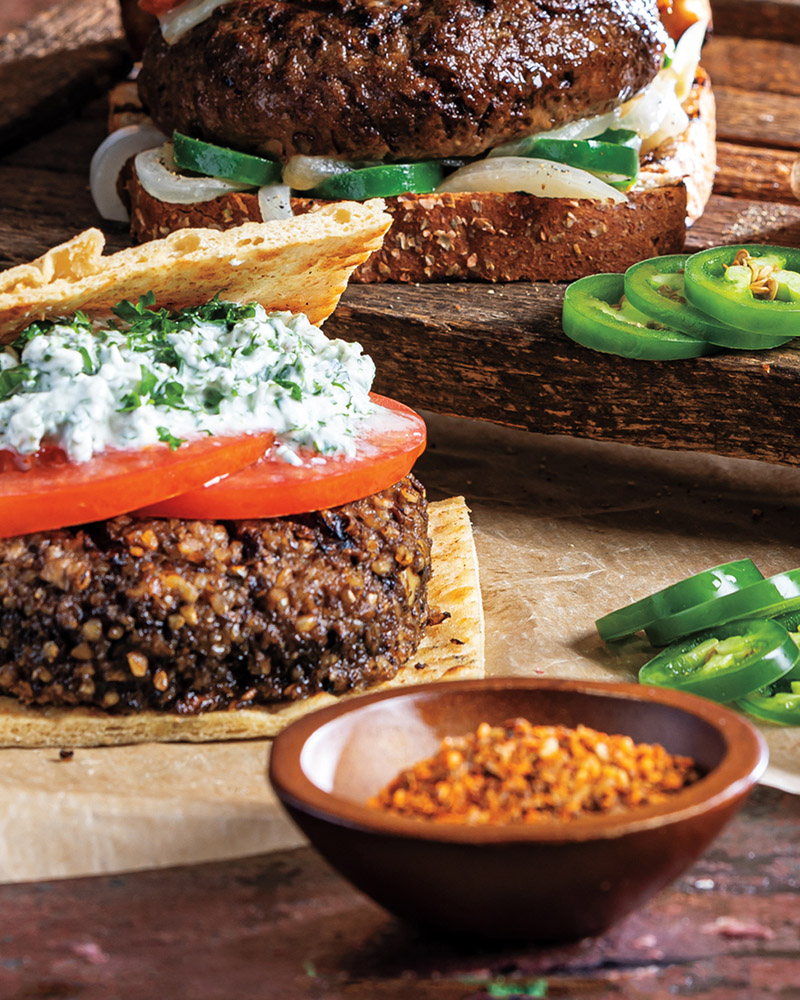 Middle Eastern Mushroom Burgers
Prep: 30 minutes plus cooling and standing
Grill: 10 minutes • Serves: 4
1
cup bulgur
Nonstick cooking spray
4
medium portobello mushrooms, stems removed and chopped
1/2
cup walnut pieces
3
tablespoons crumbled feta cheese
3
tablespoons tahini
1/2
teaspoon ground black pepper
1/2
teaspoon ground coriander
1/2
teaspoon ground cumin
1/2
teaspoon kosher salt
1/4
cup plain nonfat Greek yogurt
3
tablespoons finely chopped fresh parsley
3
(6-1/2-inch) whole wheat pita bread rounds, each cut into 3 wedges (1 wedge reserved for another use)
4
slices beefsteak tomato
1. In medium bowl, add bulgur and 1/2 cup boiling water; let stand 1 hour.

2.Prepare outdoor grill for direct grilling over medium-high heat. Spray large skillet with cooking spray; heat 1 minute over medium-high heat. Add mushrooms; cook 10 minutes or until very tender, golden brown and all liquid has evaporated, stirring occasionally. Cool slightly.

3.In food processor, pulse mushrooms, walnuts, cheese, tahini, pepper, coriander, cumin, salt and bulgur until some small pieces remain, scraping down bowl occasionally; form into 4 (3/4-inch-thick) patties.

4.In small bowl, whisk yogurt and parsley. Makes about 1/4 cup.

5.Spray both sides of patties with cooking spray; place on hot grill rack, cover and cook 10 minutes or until lightly browned, turning once. Serve burgers on pita wedges topped with tomato and yogurt mixture.


Approximate nutritional values per serving (1 burger):
454 Calories, 19g Fat (3g Saturated), 7mg Cholesterol,
549mg Sodium, 62g Carbohydrates, 11g Fiber, 17g Protein

Dietitian's tip:
> If you don't have bulgur, swap with 1 cup quinoa.