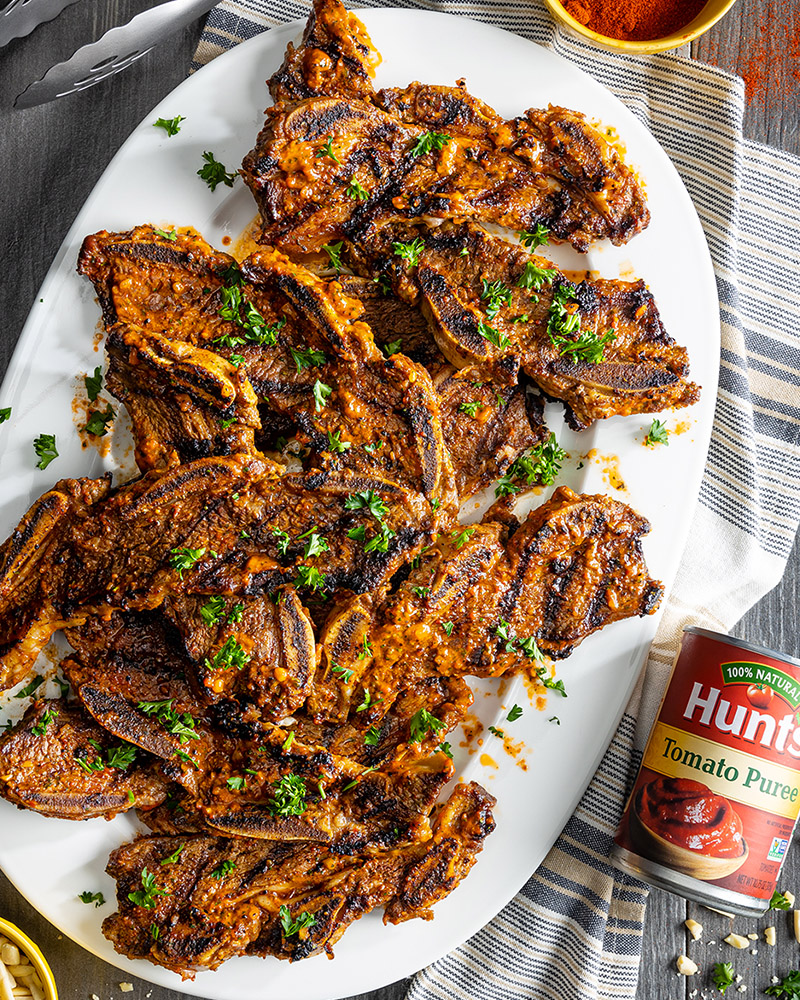 Click to See How-To Video!



Grilled Romesco Short Ribs
Prep: 15 minutes plus marinating and standing
Grill: 8 minutes • Serves: 8
1
jar (12 ounces) roasted red peppers, drained
2
garlic cloves
1/2
cup canned
Hunt's® tomato puree
1/4
cup blanched almonds
1/4
cup
Our Family® 100% pure olive oil
1/4
cup packed fresh parsley leaves plus additional for garnish
2
tablespoons red wine vinegar
1
teaspoon smoked paprika
1/2
teaspoon
Our Family® plain salt
1/2
teaspoon
Our Family® ground black pepper
1/8
teaspoon
Our Family® cayenne pepper
2-1/2
pounds flanken-style cut short ribs (about 12 1/2-inch-thick ribs)
1. In blender, purée peppers, garlic, tomato puree, almonds, oil, parsley, vinegar, paprika, salt, black pepper and cayenne pepper on high until smooth. In large zip-top plastic bag, add ribs and pepper mixture; seal bag, pressing out excess air, and massage ribs in bags to coat. Refrigerate ribs at least 8 hours or overnight.

2. Remove ribs from marinade; discard marinade. Let ribs stand at room temperature 30 minutes. Prepare outdoor grill for direct grilling over medium-high heat. Place ribs on hot grill rack; cover and cook 8 minutes or until internal temperature reaches 145°, turning once. Transfer ribs to cutting board; let stand 5 minutes.

3. Serve ribs garnished with parsley, if desired.


Approximate nutritional values per serving (3 ribs):
723 Calories, 63g Fat, 22g Saturated Fat, 105mg Cholesterol, 897mg Sodium,
10g Carbohydrates, 4g Fiber, 2g Sugars, 0g Added Sugars, 27g Protein