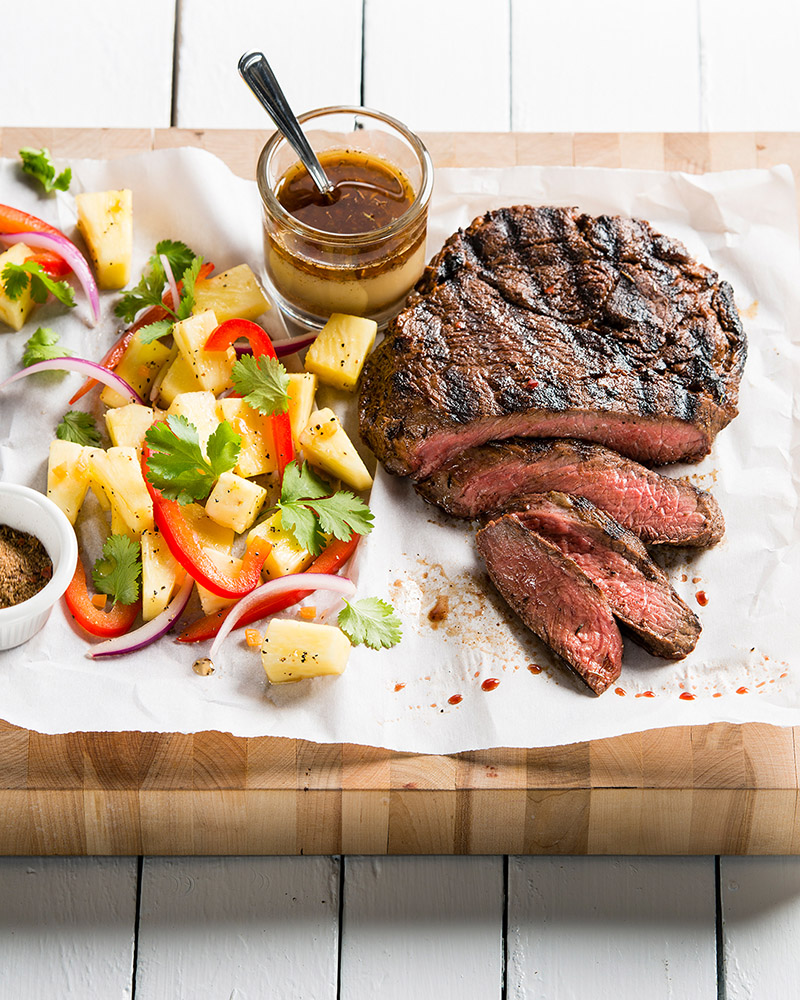 Jerk Sirloin Steak with Pineapple-Pepper Salad
Prep: 20 minutes plus marinating
Grill: 16 minutes • Serves: 4
3
tablespoons fresh lime juice
2
tablespoons canola or vegetable oil
2
tablespoons jerk seasoning
1
boneless top sirloin or flat iron steak (about 1¼ pounds)
1/2
medium red bell pepper, sliced
1/4
small red onion, sliced
2
cups chopped fresh pineapple
3/4
teaspoon fresh ground black pepper
1/4
teaspoon finely chopped habanero chile pepper
Cilantro sprigs for garnish (optional)
1.In small bowl, stir 2 tablespoons lime juice, oil and jerk seasoning. Place steak in large zip-top plastic bag; pour lime juice mixture into bag. Seal bag, pressing out excess air; refrigerate at least 4 hours or up to overnight.

2.Prepare outdoor grill for direct grilling over medium-high heat. In medium bowl, toss bell pepper, onion, pineapple, black pepper, habanero and remaining 1 tablespoon lime juice until combined.

3.Place steak on hot grill rack; cook 8 minutes or until outside is browned, turning once. Reduce heat to medium; cook steak 8 minutes longer or until internal temperature reaches 140° for medium-rare. Transfer steak to cutting board; loosely cover with aluminum foil and let stand 5 minutes. (Internal temperature will rise 5 to 10° upon standing.)

4.To serve, thinly slice steak across the grain; serve with Pineapple-Pepper Salad garnished with cilantro, if desired.


Approximate nutritional values per serving:
354 Calories, 21g Fat (6g Saturated), 95mg Cholesterol,
409mg Sodium, 13g Carbohydrates, 2g Fiber, 29g Protein

Cooking Clues
1 teaspoon finely chopped jalapeño pepper can be substituted for the habanero chile pepper.
Dietitian's tip:
> Use your spice and herb cabinet to make your own jerk seasoning: 2-1/2 tsp. dried thyme, 1-1/2 tsp. sugar, 3/4 tsp. allspice, 1/2 tsp. salt, 1/2 tsp. cayenne pepper and 1/2 tsp. ground black pepper.