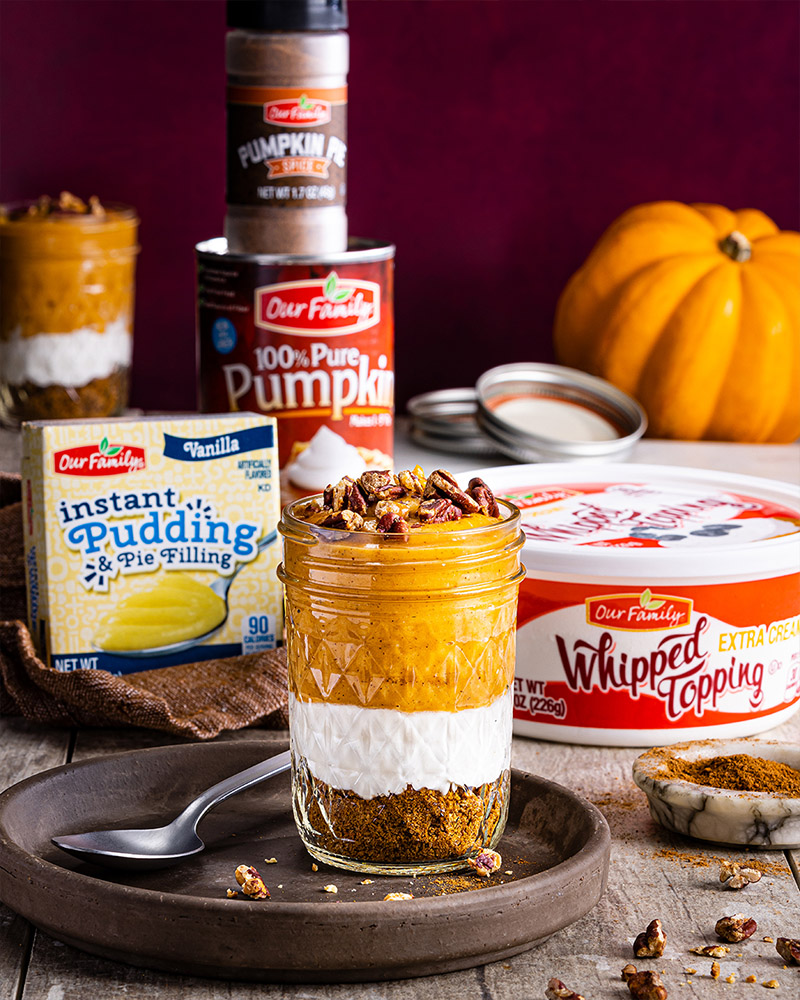 Click to See How-To Video!



Pumpkin Pie Parfait
Prep: 10 minutes plus standing • Serves: 4
1
package (3.4 ounces)
Our Family® Vanilla Instant Pudding & Pie Filling
2
cups
Our Family® 2% Reduced Fat Milk
1
can (15 ounces)
Our Family® 100% Pure Pumpkin
1
teaspoon
Our Family® Pumpkin Pie Spice
8
gingersnap cookies, coarsely crushed (about 1/2 cup)
1/2
cup
Our Family® Original Whipped Topping
, thawed
2
tablespoons
Our Family® Chopped Pecans
, toasted
1. In medium bowl, prepare pudding & pie filling with milk as label directs; let stand 5 minutes. Stir in pumpkin and pumpkin pie spice. Makes about 4 cups.

2. Divide cookies into 4 (8-ounce) glasses or jars; top with whipped topping, pudding mixture and pecans. Makes 4 parfaits.


Approximate nutritional values per serving (1 parfait):
314 Calories, 10g Fat, 4g Saturated Fat, 10mg Cholesterol, 459mg Sodium,
54g Carbohydrates, 3g Fiber, 37g Sugars, 26g Added Sugars, 6g Protein

Chef Tip
To toast pecans: In large skillet, toast pecans over medium-low heat 4 minutes or until lightly browned and fragrant, stirring frequently; transfer to plate to cool.