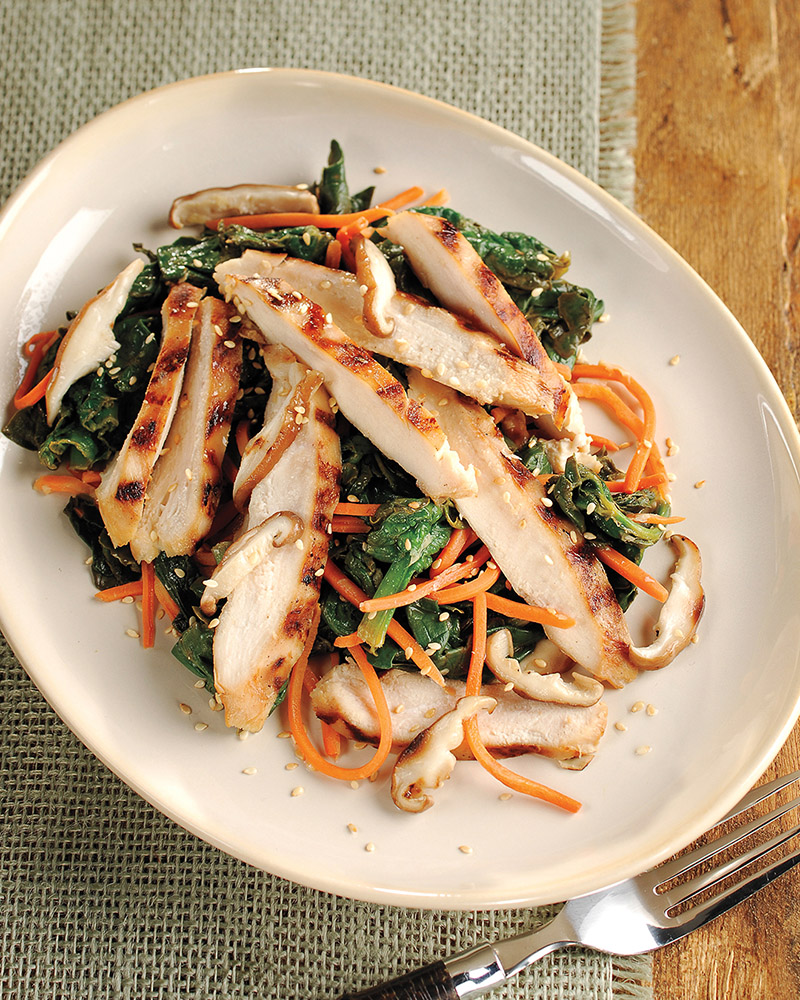 Asian Grilled Chicken Over Wilted Spinach
Prep: 15 minutes plus marinating
Cook/Grill: 20 minutes • Serves: 4
2
garlic cloves, minced
1/4
cup less-sodium soy sauce
1
tablespoon honey
4
boneless, skinless chicken breasts (about 1-1/4 pounds)
1
tablespoon white sesame seeds
1-1/2
tablespoons toasted sesame oil
1-1/2
tablespoons grated peeled fresh ginger
1
package (3.5 ounces) sliced shiitake mushrooms
1-1/2
cups shredded carrots
1
package (10 ounces) baby spinach
2
tablespoons fresh lemon juice
1.Prepare outdoor grill for direct grilling over medium heat. In small bowl, whisk together garlic, soy sauce and honey. Place chicken in large zip-top plastic bag; pour soy sauce mixture over chicken. Seal bag and refrigerate 15 minutes to marinate.

2.Meanwhile, in small nonstick skillet, toast sesame seeds over medium-low heat 3 minutes or until golden brown, stirring frequently; transfer to plate.

3.Remove chicken from marinade; discard marinade. Place chicken on hot grill rack and cook 10 to 12 minutes or until chicken loses its pink color throughout and internal temperature reaches 165°, turning once halfway through cooking. Transfer chicken to plate; keep warm.

4.Meanwhile, in large nonstick skillet, heat oil over medium-high heat. Add ginger and cook 1 minute, stirring frequently. Add mushrooms and carrots and cook 4 minutes, stirring occasionally. Add spinach and cook, covered, 2 minutes. Stir in lemon juice.

5.To serve, evenly divide spinach mixture over each of 4 dinner plates. Slice chicken and place over spinach mixture; sprinkle with sesame seeds.

Approximate nutritional values per serving: 

259 Calories, 9g Fat (2g Saturated), 72mg Cholesterol,
559mg Sodium, 15g Carbohydrates, 4g Fiber, 28g Protein

Dietitian's tip:
> Follow these easy tips when using fresh ginger root.
1. Easily peel the ginger root skin using the edge of a spoon.
2. Store leftover peeled ginger root in the freezer.
3. Take it out of the freezer when you need it and simply grate – no need to thaw!