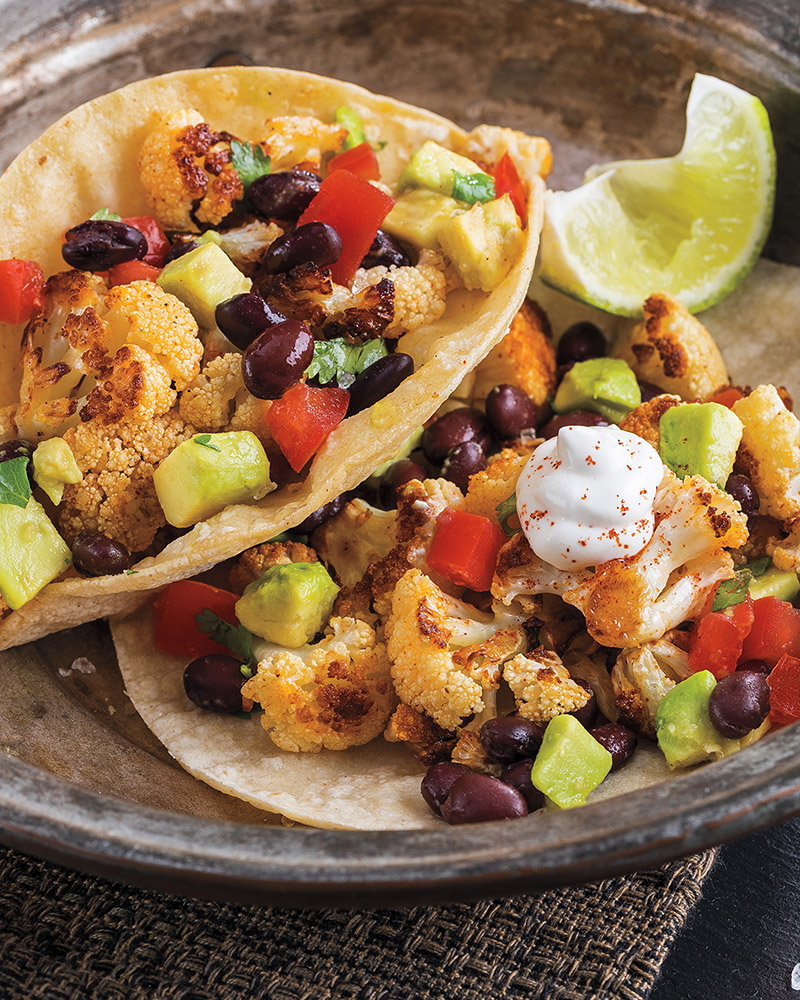 Roasted Cauliflower Tacos with Avocado-Black Bean Salsa
Prep: 15 minutes
Roast: 15 minutes • Serves: 6
2
garlic cloves, minced
1
medium head cauliflower, cut into small florets
2
tablespoons olive oil
1-3/4
teaspoons ground chipotle pepper
1/2
teaspoon plus 1/8 teaspoon salt
1/2
teaspoon plus 1/8 teaspoon pepper
1
large tomato, diced
1-1/2
cups rinsed and drained canned black beans
1/4
cup chopped fresh cilantro leaves
2
tablespoons fresh lime juice
1
avocado, peeled, pitted and chopped
12
(5- to 6-inch) corn or flour tortillas, warmed
1/4
cup reduced fat sour cream
1. Place large rimmed baking pan in oven; preheat oven to 475°.

2. In large bowl, toss garlic, cauliflower, oil, 1-1/2 teaspoons chipotle pepper, and 1/2 teaspoon each salt and pepper. Spread in single layer on hot pan; roast 15 minutes or until charred, turning once during last 2 minutes of cooking.

3. In medium bowl, toss tomato, beans, cilantro, lime juice, and remaining 1/4 teaspoon chipotle powder, and 1/8 teaspoon each salt and pepper; fold in avocado.

4. Evenly fill tortillas with cauliflower mixture and avocado mixture; evenly top with sour cream.


Approximate nutritional values per serving (2 tacos):
313 Calories, 13g Fat (3g Saturated), 4mg Cholesterol,
449mg Sodium, 44g Carbohydrates, 12g Fiber, 10g Protein

Cooking Clues
To crisp tortillas, spray 1 side with cooking spray, then hang tortillas sprayed side down, over 1 rung of the oven rack. Bake at 275° for 10 minutes or until crisp.
Dietitian's tip:
> This is the perfect meal to celebrate Meatless Monday! For some extra family fun – try swapping white cauliflower for purple, orange and green varieties. Don't like black beans? Swap for chickpeas and roast on the same pan as the cauliflower.