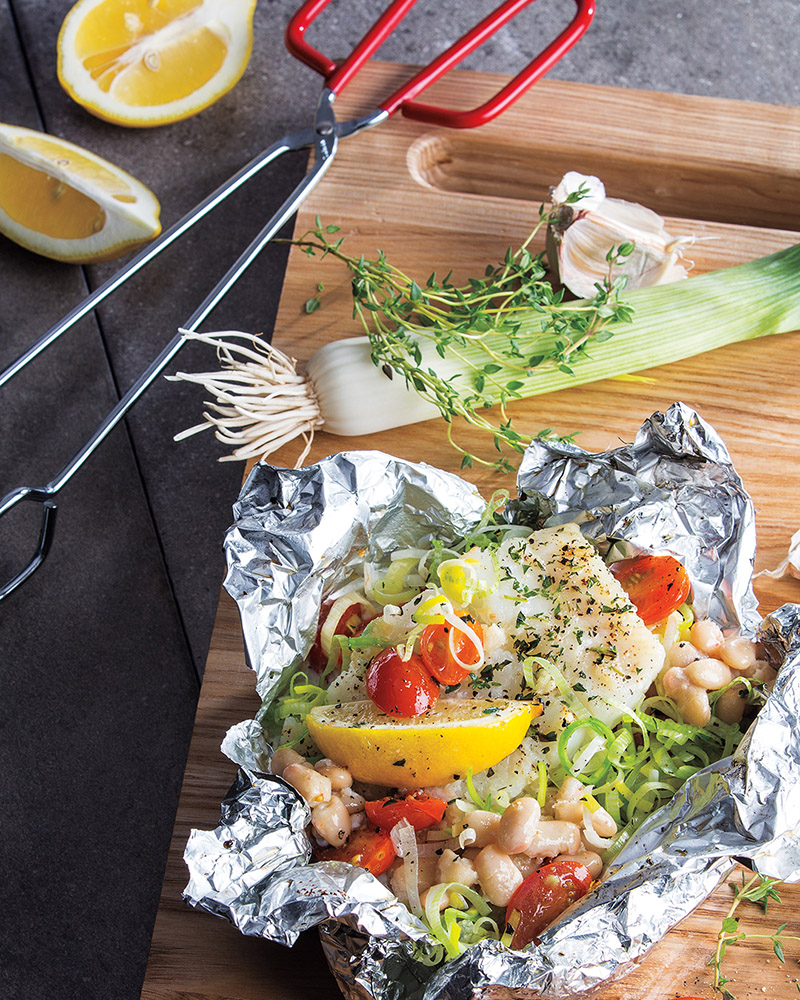 Grilled Cod, White Bean & Tomato Packets
Prep: 20 minutes
Grill: 15 minutes • Serves: 4
Nonstick cooking spray
2
cans (15 ounces each) great Northern white beans, rinsed and drained
1
package (1 pint) cherry or grape tomatoes, halved (about 2 cups)
3
garlic cloves, crushed with press
2
leeks, thinly sliced crosswise (about 2 cups)
4
(6-ounce) cod fillets
1
small lemon, quartered lengthwise
1/4
cup butter
1
teaspoon fresh thyme leaves
1/2
cup white wine or chicken broth
1/2
teaspoon salt
1/2
teaspoon freshly ground black pepper
1.Prepare outdoor grill for direct grilling over medium heat. Tear four 12 x 24-inch sheets heavy-duty aluminum foil. Arrange sheets horizontally; spray with cooking spray. On right, center of each sheet, evenly divide beans, tomatoes, garlic and leeks; top each with 1 cod fillet. Evenly divide lemon, butter and thyme over cod. Cupping foil slightly, evenly pour wine over butter; evenly sprinkle with salt and pepper. For each packet, fold left side of foil over filling; crimp edges of foil to seal tightly.

2.Place packets on hot grill rack; cover and cook 15 minutes or until internal temperature of cod reaches 145°. With scissors or knife, cut an 'X' in center of packet; carefully pull back foil to open.


Approximate nutritional values per serving:
413 Calories, 12g Fat (8g Saturated), 112mg Cholesterol,
844mg Sodium, 33g Carbohydrates, 7g Fiber, 37g Protein

Dietitian's tip:
> Steaming in a pouch, called en papillote, secretly works to protect your fish on the grill. Bring this method indoors on bad weather days by wrapping your ingredients in parchment paper and steaming in a preheated oven. Make a tight seal with your packets and they should puff up. The parchment may start to slightly brown when it's close to being done.