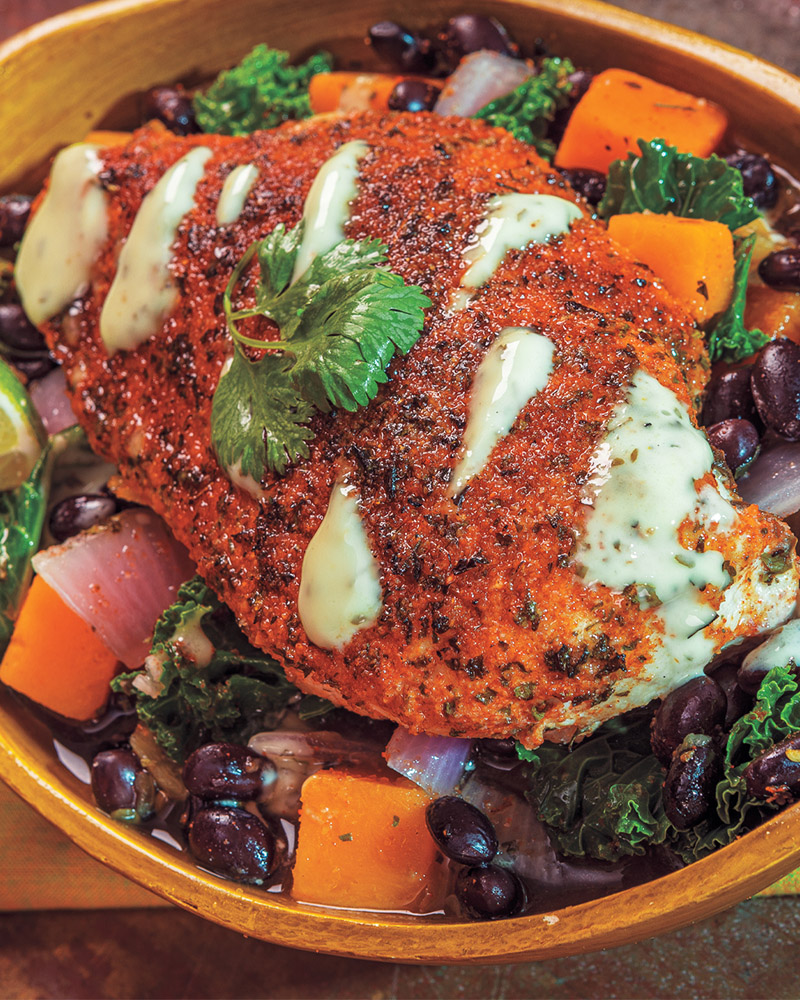 Slow Cooker Mexican Chicken with Black Beans, Squash & Kale
Prep: 15 minutes
Slow Cook: 6 hours 10 minutes • Serves: 4
4
boneless, skinless chicken breasts (about 6 ounces each)
2
tablespoons salt-free Mexican seasoning blend
1
can (15 ounces) reduced sodium black beans
1
can (14.5 ounces) reduced sodium chicken broth
1
can (4 ounces) diced mild green chiles
1
small butternut squash, skin and seeds removed, cut into 1-inch pieces (about 5 cups)
1
small red onion, chopped
2
tablespoons fresh lime juice
1/2
teaspoon lime zest
4
cups packed chopped kale
1/4
cup salsa verde avocado yogurt dressing
Chopped fresh cilantro and lime wedges for garnish (optional)
1.Pat chicken dry with paper towel; sprinkle with Mexican seasoning.

2.In 5- to 6-quart slow cooker, stir beans, broth, green chiles, squash, onion, and lime juice and zest; place chicken on top. Cover and cook on low 6 hours or until internal temperature of chicken reaches 165°. Transfer chicken to cutting board; tent with aluminum foil and let stand 10 minutes.

3.Stir kale into bean mixture; cover and cook 10 minutes or until wilted. Makes about 8 cups.

4.Serve chicken over black bean mixture drizzled with dressing; garnish with cilantro and lime wedges, if desired.


Approximate nutritional values per serving:
434 Calories, 7g Fat (2g Saturated), 103mg Cholesterol,
502mg Sodium, 47g Carbohydrates, 15g Fiber, 50g Protein

Dietitian's tip:
> Once you have turned off your slow cooker, be sure to package leftovers in shallow containers and refrigerate within 2 hours.